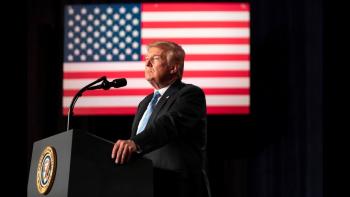 Top evangelical advisors are coming out in support of Donald Trump, saying he has a legal right to fight the results of the 2020 presidential election. Trump's Democratic opponent, Joe Biden, was announced the winner by major networks.
Evangelist Franklin Graham tweeted out on Monday that it should be left to the courts to "determine who wins the presidency."
Graham did not bring up voter fraud, which has been the narrative of the Trump administration for why he lost. Graham instead said that American's should be patient and wait until all states have finished counting and lawsuits are finished in the courts. He also reminded everyone that nothing is final until the electrical college is held next month.
"He has a case," Graham said. "That doesn't mean the outcome will change. Our forefathers, when they created the Constitution, realized the election might be contested. That's why the certification isn't until a month or so later. It gives time for disputes to be worked out."
"He shouldn't concede until the process is finished," he finalized.
The leader of the Faith and Freedom Coalition, Ralph Reed, told Religion News Science that he believes Trump should pursue every avenue possible, including calling for vote recounts and litigation.
"As a veteran of the 2000 Florida recount, I take the integrity of elections and the rule of law very seriously," explained Reed. "Donald Trump's campaign is entirely within its rights to pursue legal challenges and recounts where appropriate. This election will be over when those recounts are complete and those legal challenges are resolved—and not until."
President of The Family Research Council, Tony Perkins, echoed other's statements. He noted that the election was not over, and that Trump should continue fighting.
"There are a number of steps—under the Constitution, federal, and state law—that still need to occur in the presidential election process," he wrote in a tweet on Tuesday.
In a similar fashion, Pastor Robert Jeffress of First Baptist Dallas said that Trump has "every right to contest the election" while telling Christians how to respond to a possible Biden presidency.