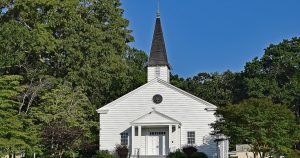 A small Georgia church was excited to open its doors again after being shut down due to the COVID-19 pandemic. Their excitement was shortlived when two weeks later, members of their congregation tested positive for the disease.
Catoosa Baptist Tabernacle in Ringgold announced on May 11th that they would suspend "in-person worship services for the foreseeable future". They said this was out "an effort of extreme caution".
"Our hearts are heavy as some of our families are dealing with the effects of the COVID-19 virus, and we ask for your prayers for each of them as they follow the prescribed protocol and recuperate at home," the church said in a statement.
"Though we feel very confident of the safe environment we are able to offer in our facilities, the decision was made…that we would discontinue all in-person services again until further notice in an effort of extreme caution for the safety and well-being of our families."
The church did not specify how many families in their congregation were affected but did say that only 25 percent of members had participated in the two-week span they were open. Local officials said they were investigating three individual cases.
"Based on the current data that was shared and the low volume of cases in our area at the time, and in an effort to offer our families both options of either attending in-person services or streaming online, we resumed services in the Tabernacle a couple of weeks ago. While approximately a fourth of our congregation chose to attend the in-person services, our other families chose to remain at home and continue enjoying our streaming services," the church said.
During that time, officials noted that "all modes of social distancing were practiced and followed by the families attending."
"Seating was marked to only permit sitting within the six-foot guidelines, all doors were open to allow access without the touching of doors, and attendees were asked to enter in a social distancing manner and were dismissed in a formal manner as well to ensure that the social distancing measures were adhered by all," the church said.
Ringgold, which is about 100 miles northwest of Atlanta, had seen relatively little cases of COVID-19. At the time this writing, 70 cases have been confirmed.
"We understand that people want to stay connected with their church families and many have been able to do that online, but the risk of becoming infected or infecting others by attending a church service, or any gathering, is not insignificant, said Logan Boss, public information officer for the 10-county Georgia Department of Public Health Northwest District.