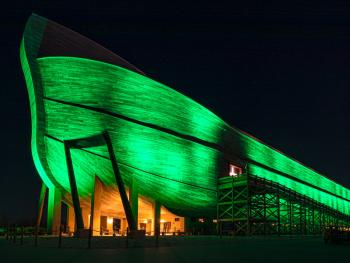 Kentucky's life-sized replica of Noah's Ark has been lit up green to honor victims of coronavirus. The creationist ministry that operates it, called 'Answers in Genesis' say that the Ark encounter was lit green "to show compassion as the Bible instructs us."
"It is to show solidarity and compassion for Kentuckians, really" the co-founder Mike Zovath said. "Other states might have other symbols of solidarity, but it's really to show we care about people in Kentucky and we're with everyone in the state. We're going to beat this together."
The Ark Encounter was closed at the end of March following a statewide order for the closure of all non-essential businesses. The Ark welcomes close to a million people each year
Kentucky as well over 1,300 confirmed cases of the coronavirus and there have been at least 73 reported deaths.
Governor of Kentucky Andy Beshear has supported the colorful tributes by lighting the Governor's Mansion and State Capitol building.
"It lets people know that we are thinking about them, that we care about them, that we love every single Kentuckian around us," the governor said.
Beshear took to twitter to offer words of encouragement to citizens while advising them to keep following social distancing practices. "Remember even with those sacrifices, there are going to be escalating cases before we have fewer cases," he said. "In other words, we still know that across the country and here in Kentucky that it is going to get tougher before it gets better….we know there is an end. We just have to be strong enough to get there."