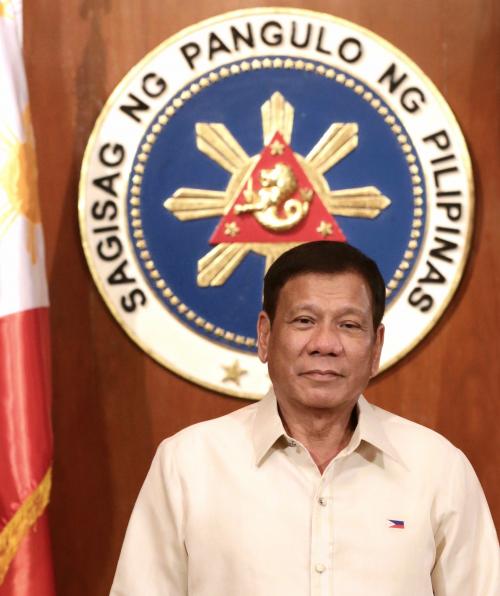 Philippine president Rodrigo Duterte seems to be playing a bizarre game of chicken with God: How long can Duterte mock God before he needs to worry about an old fashioned smiting? The answer is unclear how far Duterte can go before he needs to start trying to dodge lightning bolts, but Philippine Christians are getting fed up with the president's constant disparaging remarks. Unfortunately, Duterte's latest comments have only continued to mock Christianity.
When he spoke at the anniversary of the Department of Environment and Natural Resources in Quezon City, Duterte lashed out at faith-based objections to his current family planning policies. The administration has emphasized its commitment to reproductive health and holds that giving people artificial means to limit or space out births will create or sustain economic growth. To that end, Duterte signed an executive order in January 2017 that directed agencies to fund and enforce access to free birth control as part of the Responsible Parenthood and Reproductive Health Act of 2012.
The Catholic Church has opposed Duterte's laws, much to the president's displeasure. During his speech at the Department of Environment and Natural Resources' anniversary, Duterte lashed out at the Roman Catholic Church. His remarks did not name the Catholic Church specifically, but his words were clearly directed at them when he bemoaned the "creeping influence of faith" that was working to undermine his government.
"I do not like [this] creeping influence of faith," Duterte said. "[It] sometimes run[s] counter to what [the] government believes to be good for the people, at least in this temporal life."
Duterte self-identifies as a Catholic himself, despite disagreeing with the doctrine of original sin and having called God "stupid" just over two weeks before he spoke at the Department of Environment and Natural Resources' anniversary. Ironically, his speech was given just days before he was set to speak with the Catholic Bishops' Conference of the Philippines president Davao Archbishop Romulo Valles in an effort to mend ties with Catholics and other Christians who have been offended by Duterte's recent remarks. No doubt Duterte's comments only made that dialogue more unpleasant.