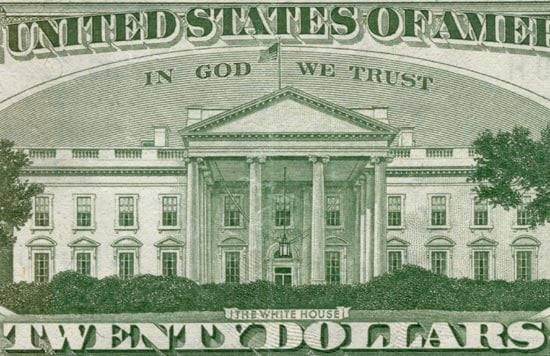 How many tries does it take to remove God from American currency? So far, atheist Michael Newdow has not managed to find the answer to that question. Instead, yet another of his repeated lawsuits attempting to remove "In God We Trust" from American currency was struck down by the Sixth Circuit Court of Appeals. Newdow alleged that having coins and paper money carry the motto "In God We Trust" was "compelled speech" that violated his religious beliefs, in this case, atheism.
According to the Sixth Court of Appeals, Newdow's complaint "does not allege that anyone has ever attributed the motto to them. And the Supreme Court has strongly suggested that the motto's inscription on currency does not compel speech." The Court went on to say that "though access to credit or bank accounts is not universal, not one of the plaintiffs alleges that his or her financial situation forecloses access to credit or checks. Plaintiffs therefore have not plausibly alleged that they lack a feasible alternative to cash for engaging in commerce."
This is not the first time that Newdow has tried to get "In God We Trust" removed from American currency and claiming that it is compelled speech is merely his latest excuse. He previously asserted that the motto served to proselytize unbelievers thus violating the Establishment Clause of the United States Constitution. U.S. District Court Judge Harold Baer, Jr., a judge nominated by Bill Clinton, struck down Newdow's argument. The Second Circuit Court of Appeals in Manhattan upheld Baer's ruling in 2014.
Newdow then began attempting to gather other people to help him challenge the motto again. This time, he claimed that the motto violated the Religious Freedom Restoration Act instead of the Constitution. More than 20 percent of his new plaintiffs were children. As such, Newdow claimed that "When [a child] is confronted with 'In God We Trust' on every coin and currency bill she handles or learns about in school, the power and prestige of the federal government is brought to bear upon her with the message that her father's (and her own) atheism is false…Additionally, she is taught to carry and promote a religious message her father is teaching her to at least consider denying, and to also make a completely false declaration as to what is likely to be her own religious view on the matter of God's existence."
The court once again struck down Newdow's complaint by stating that "no reasonable viewer would think that a person handling money does so to spread its religious message." This, of course, did not stop Newdow from making yet another attempt at altering the appearance of U.S. currency.
Interestingly enough, Newdow's arguments that the motto "In God We Trust" violates his religious beliefs is actually an assertion, in legal court, that atheism is a religion just like Christianity, Judaism or Buddhism. What will come of that repeated assertion is unknown, but similar language is likely to appear before federal courts again when Newdow inevitably tries yet again to remove God from American money.