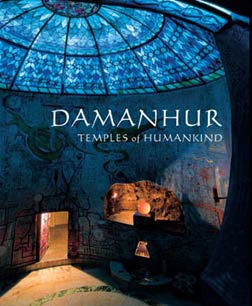 Do you know about Damanhur? It's a 1,000-resident intentional community and eco-village in the mountains of Italy that's currently attracting the interest of American spiritual seekers. In 2004, the United Nations acknowledged Damanhur as a model for sustainable society. Children are being raised and educated here, the adults farm and make their own food. Check out the temples they've built to an all-embracing human spirituality.

Here's a film
that shows the beauty of Damanhur's "Hall of Mirrors."
And here's an article
about the place called "Atlantis in the Mountains of Italy" that explains how it all came together and how problems are navigated. And here's the
Damanhur coffee table book,
with a forward by spiritual artist Alex Grey (who I'm always happy to see roaming the streets of Brooklyn near my food coop).