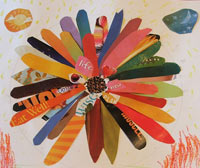 Here are some blogs and websites I like. It's not a complete list. But it's a start.
The first is called New Moon Journal and it is written by Michele Bailey-Lessirard, a life coach, collage artist, and "shamanic astrologer." On the opening page of her site, you'll find a little slide show of her amazing, healing artwork (which she encourages you to do alongside her). As a longtime lover of the work of Joseph Cornell and Kurt Schwitters, I too believe that arranging collage images on paper is "spirit" work. Intuition reigns supreme as you connect with what feels aligned and right, and you'll learn ways to connect with your shadow, as well as your most divine self. So visit Michele, "a student of symbols and feminine mysteries," try some collage work, and start following the moon as closely as she does. Her blog is excellent.

Another "symbolist" and student of calendars is the ever-fruitful, gorgeous font of wisdom
Waverly Fitzgerald
, creator of
SchooloftheSeasons.com
. Unique is the right word. I feel I couldn't have written this blog without her. Visit her site to strengthen your connection to religious/spiritual holidays and the organizing principal of ritual. Waverly also blogs about flowers. And passion. And love.
Then there's Caroline Casey's site
The Coyote News Network
. Man, watch out! As we edge into a political year, it will be impossible for Caroline not to froth! She's a divinely-connected female John Stewart–she's also the beloved sister of novelist John Casey, a writer I knew at the University of Virginia. Caroline, who I met through my pal
Shelley Ackerman
, has a
"Visionary Activist" radio show
that's unlike anything else you'll hear. Fun, passionate, fired-up! I think you'll want to check in with her periodically.
Thanks to all the people in the last two years who have given me courage and support: my husband, Beliefnet.com co-founder, Steven Waldman, my kids, my sister Kathryn Janus, my loving dad and my precious in-laws, my editor Valerie Reiss, the whole Beliefnet.com edit staff, Frances and Chris Stahnke, Domenick Masiello, Nell Minow, Laura Stanley, Myra Klockenbrink, Cristy West, Kathleen Currie, Lisa Schamess, Marianne Szegedy-Maszak, Teresa Riordan, Sheila Kaplan, Art Levine, Laurie Sue Brockway, Vic Fuhrman, Lama Surya Das, Elizabeth Lesser, Jim Kullander, and all you readers.
Again, send your email addresses to me at ChatteringMind@beliefnetstaff.com, and I'll find you again! (Remember that great scene where Daniel Day-Lewis screams "Stay alive! Do whatever you have to do to stay alive. I'LL FIND YOU" as he leaves his new girlfriend and jumps down a cliff in "The Last of the Mohicans"?) Continue to read Beliefnet.com. It is not a Christian site, by the way. I guess it's just that the Christians are noisier. The
Holistic Spirituality page
of the site remains an excellent meeting place, and is always a good place to find articles.
Onwards!