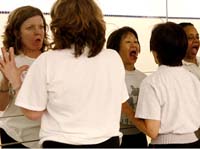 Here's another piece from the "Times" too irresistible to pass up for mention: this one is about people trying facial yoga to relax face and neck muscles and perhaps offset wrinkles.
"People want a healthy alternative to looking good without artificial substance," said Annelise Hagen, a former actress whose book, "The Yoga Face," is to be published this August by Avery, the health and wellness division of Penguin. "And they want to be in control of their appearance rather than relegating it to an authority. I'm teaching my students to consciously release muscles rather than paralyzing them, which is what Botox does."
I don't believe you can undo your crow's feet. But I do think that people grow their faces, and shine their generousity and love straight out through them. I also think that any type of yoga is generally fantastic.
Try this at your desk (when nobody's looking), for instance: Close your eyes tight, open your mouth as wide as you can, and stick out your tongue hard and down, push a little, hold, relax.
Pretty great, right?