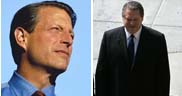 It bothers me that Al Gore is holding onto the weight he's gained.
Not because I'm anti-fat. Not because I want him to run again.
But because I've always believed that his weight gain was due to the personal trauma of winning the popular vote and losing the election, and that in the early years of the Bush administration, I imagine Gore must have been eating, grieving, and beating himself up over not having been a more perfect candidate.
With the weight, he holds the whole country's grief (well, he at least holds the sadness felt by the chunk of the country that voted for him). If he lets the grief go, we can all breathe easier. We'd think: Well, we've all taken a hit, but we still have our health.
Since Gore knows what fitness is and has enjoyed being lean in the past, and since, for God's sake, he has won an Oscar, come into the limelight again in a big way, he can now lose the weight and feel victorious.
Al's flab seems attached to our sad, communal casting back, our head-shaking, grief-stricken imaginings over what might have been. None of us want to live that way any longer. We need to get back into fighting shape, so we can build something new. So Al, hop on that exercise bike (you can watch CNN as you pump). Not since Kirstie Alley has a nation been so fixated upon a public figure's girth. Letterman even did a Top 10 on it in early 2001. So let's get it, as a topic, off the tables. What do you say, Al? Please!