You can now get "Enlightenment" Visa credit cards that reward you in "points" redeemable for spiritual retreats, teacher trainings, a session with a spiritual "master," and workshops. You may also convert your points into charitable contributions for things like breast cancer research, schools in India, and the organization Cherish Our Children International.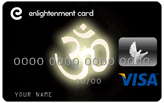 Not only that, you can select a graphic for your Enlightenment Card from this menu, stocked with an om symbol, Buddha, a photo of hands in a mudra, and more. Have a look.
I'm slightly turned off, but I'm shaking my head in reluctant admiration. Outside of the fact that you're fattening a huge corporation, I don't quite see the downside. What do you think?
If they run TV ads for this, they've got to use as their theme song "We are The World. We are the Children," and show fit people doing Tai Chi, Qigong, and yoga at sunrise, don't you think? Any other suggestions welcome.