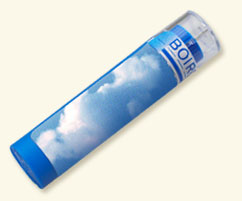 The eldest Chattering boy slammed the car door on a left-hand finger right outside school this morning. He was in terrible pain. The cure here is usually a huge hug from Mom, ice, and the homeopathic remedy Hypericum (a highly-diluted essence of St. John's Wort). I feel like I've stored Hypericum in our car's glove department for twelve years in anticipation of just this event, but alas, when I pawed through the car's interior and my purse (a mess again), my reassuringly blue Boiron tube wasn't there. Drat. No Arnica either (a bruise-inhibiting remedy derived from a yellow daisy that grows through much of Europe).
In the meantime, Chattering boy's middle school friends had gathered, and once they realized he wasn't headed for the hospital, their light-hearted jokes eased the pain. ("Do you see the light? Don't go towards the light! That's only New Jersey!" said his friend Camilla.)
"Mom, it still hurts," he whispered to me, dissolving into tears again. There's no parking at meters until nine a.m. on these mean Brooklyn streets–and no homeopathy for sale until nine too–so I drove six blocks to a regular drug store, threw the blinkers on, and told my son, "Look, if the police try to give us a ticket, just tell them you are hurt and that I had to run in here." I returned minutes later armed with Neosporin with Pain Relief, and a special finger bandage, relieved to see that by that time, he was contently reading a vintage Mad magazine.
I couldn't cease my interior chatter about how homeopathy would really fit the bill here, so after dropping him back at school, I drove to the health food store Back to the Land, (which everybody calls "Back to the Bank" since it's so expensive). Got the Hypericum and the Arnica. Called my son out of class to give him the first dose; left him with instructions to take the next thirty minutes before lunch.
Later, when digging through my purse for more parking-meter quarters, I found an old vial of Bach Flower's Rescue Remedy rattling around under my wallet. Ha! If I'd found that when I needed it, it could have helped!
So I just gave myself a dose.
Click here and here and here to find wonderful books on household homeopathy and floral essences; they make fantastic gifts for yourself, or a friend, especially a new parent.
If you truly want to curl up with this subject, the most magnificent books on homeopathic medicine ever written are by Catherine R. Coulter. In three volumes, she delves passionately into matching the right homeopathic remedies to specific constitution types (since people developing chronic conditions generally resonate to one "overseeing" remedy more than any other). Coulter's descriptions of people's presenting symptoms and mannerisms, her literary allusions, and her stunning understanding of health and human nature, make her writings on homeopathy required reading for any actor, fiction writer, or psychotherapist. We're all living organisms in and out of connection to the essences of Mother Earth, aren't we?
Anyone else out there (besides J.D. Salinger) a homeopathy lover? Do you treat yourself or your family on your own? Or do you consult a professional homeopath? (It's really the best way to learn.) I could write about my fruitful encounters with the pros (if you're interested), or tell you about the day Mr. Chattering and I had one of the biggest arguments we've ever endured over whether to try a remedy given to us by a liscensed homeopath, OR put our then-15-month-old son on a third round of antibiotics to heal a chronic ear infection. In the end, we used homeopathy and I've sworn by its effectiveness in relieving the aggravations of common ailments ever since.