I am disappointed, to put it mildly.
I purchased a 3DTV a few months ago with the hopes of watching movies and sports in a new dimension, literally.
Come to find out, that U-Verse has dropped ESPN 3D from its package.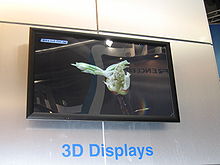 I found out by flipping through the channels Sunday night with a message on the screen on Channel 1610, the now former ESPN 3D channel.
I then searched around the Internet and found this statement from U-Verse:
"We're always listening to customers and working to make sure we're delivering the channels they want, while keeping costs down. The price tag for ESPN 3D was too high, especially considering the low demand we've seen from customers. We've decided not to renew our agreement for ESPN 3D."
The few opportunities I had to enjoy sports on my LG 3DTV I really enjoyed the in-your-face action.
I guess I was one of the few?
………………………………………………
for a look at the world in sports please check out: http://www.orble.com/a-sports-life/