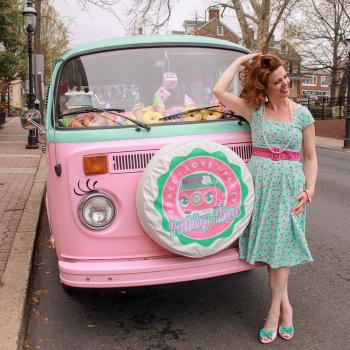 Music has the power to delight, to entertain, to soothe, to uplift, and to heal. In this particularly trying time, when the world is awash in chaos and off the charts unpredictability, it provides additional magic mojo.
I have a friend named Robin D. Brackbill who has been doing amazing karaoke covers of well-known songs by musical divas. She is phenomenal! Entertaining, funny, and uplifting. She is performing for that purpose. This is one such hit.
She did Emmylou Harris proud with her rendition of – Wayfarin' Stranger.
a few weeks back. Robin is a larger than life presence, a force of nature, with a heart as big as the moon.
She has many appellations:
Closet Karaoke Queenie
Redhead Contralto Singer.
Big Hair. Big Mouth
Vocal Impersonator. Humorist.
Philly-DelCo bred.
Hopeful dreamer spreading joy & nostalgia through song.
Instagram: @closetkaraokequeenie
Youtube: Closet Karaoke Queenie
Facebook: Closet Karaoke Queenie
Tiktok: Closet Karaoke Queenie
She is the Creator and Founder of Fabby-Do Creative Studio for Kids in Doylestown, PA Fabby-Do is an Arts and Crafts studio and retail establishment for children encouraging hands-on creativity in the arts for children ages 2 to teen. When I walk in (an eternal child that I am), I am mesmerized by the wonderland of color and wish I could dive in and play. Robin herself is a kid in a grownup suit. She is also an art and music and movement teacher at Fabby-Do and can be seen around town in her oh-so-fab converted VW mini-bus.As the eldest of 10 siblings, all encouraged in music and arts, she says that her talent and love of creative expression was a gift from her parents. She shares it with her own children and the kids in our community. She can turn frowns upside down. I am making her sound a bit like Mary Poppins, aren't I?
Through the quarantine, Robin's business had sadly been labeled non-essential which has had a tremendous impact on her family as it has for families worldwide. This weekend, our region went to the Yellow Zone so she has opened her doors and will be adhering to all safety precautions. I can only imagine the delight on the faces of the children and parents who will return to let their inner Creativa out to play.
Passersby can see inspiring messages and happy designs inscribed in chalk on the walkway in front of her store.
She says that "Through these difficult times, my love of music and singing has gotten me through."
Recording songs under the new alias of "Closet Karaoke Queenie" since the pandemic, Robin has recorded over 100 vocal impersonations and tribute songs on Instagram, of some of the greatest female singers of all time.
Her vocal impersonations range from Stevie Nicks to Peggy Lee, June Carter, Alison Krauss, Pat Benatar, Madonna, Paula Abdul, to Adele … and so many more.
She has developed quite a following over various social media and music group platforms.
Posting songs every day has not only given Robin a feeling of purpose during these hard times, but it has touched so many others who have been uplifted by her daily singing and humor.
She shares, "Music is healing. It was my immediate response to the traumatic scenario. I sing everyday anyway… but realizing that my recordings were helping folks have something to look forward to daily. Same time every day. They knew they'd get a laugh or chuckle. This gave me a little sense of purpose when my normal routine in life came to a crashing halt with the pandemic. I won't stop singing even when I reopen. I've given another creative part of me to the public that is well received. I'll sing as long as people want to listen. Singing is my first love. My preference is singing Jazz and Bluegrass Music. But I love it all really."
This morning, in the midst of the protests in support of Black Lives Matter, she offered her rendering of We Shall Overcome. It brought tears to my eyes. May it be so.
This was her message that accompanied it on Social Media:
"I sang WE SHALL OVERCOME today with all my heart … to the point of almost shouting and yelling from my gut. I don't care how flat and off-key it is. We need to stand up for those we love. To shout out!
I've been silent for the past week from singing.
Angry and heartbroken about a lot of things.
Been a very hard few weeks with sadness, grief, and loss. It's been hard to be silly and offer comic relief. Praying for my family and my friends in the black community who I love so much. I stand with you. We need change now. I had been researching and listening to songs of the Civil Rights Movement. I remember this one well, sung by Pete Seeger.
Sing with me:
We shall overcome
We shall overcome
We shall overcome, some day
Oh, deep in my heart
I do believe
We shall overcome, some day
We'll walk hand in hand
We'll walk hand in hand
We'll walk hand in hand
We'll walk hand in hand, some day
Deep in my heart
Oh, deep in my heart
I do believe
I do believe
We shall overcome, some day
We shall overcome, some day
We shall live in peace
We shall live in peace
We shall live in peace, some day
We shall live in peace, some day
We all will be free
We all will be free
We all will be free some day.
Oh, deep in my heart
I do believe
We shall overcome
Someday"
When we are let loose on the world and can hug again safely, I will special deliver a bunch to her!