Yesterday I eagerly took part in a Pridefest in my local town of Doylestown, PA. The sun beamed brightly on those gathered in the streets, to celebrate diversity, acceptance, love, and unity. A panoply of people of varying age ranges, gender presentations, and relationship status. As is so in every event I have attended in what is known as the heart of Bucks County, it was a true love-fest. Although I can't say that everyone in the region has a progressive mindset, I do know that for the most part, people on either side of the political aisle, seem to work cooperatively together. I saw representatives from both the Red and Blue stripe of the rainbow chatting it up.
Colorful shirts with positive messages on them, decked out drag queens, multi-hued outfits, people with faces painted and glitter-strewn, dressed up dogs, were seen all about. Two faith communities had booths- one a church called Salem U.C.C, hosts the Rainbow Room for LGBTQA youth and the other a synagogue called Temple Judea are inclusive and embracing. Educational information and voter registration were offered.
I was there to share FREE MOM HUGS and was joined by numerous others who opened their arms and hearts. Some of those who accepted embraces expressed deep gratitude since their revelation of their true identity, is not always accepted. I was heartened by the many parents who wore shirts that bore their pride in their children.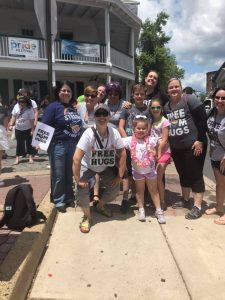 Amidst the elevated mood were three people whose pronouncements were not in the same vein. Proclaiming to be Christians, their words were filled with hatred and condemnation. Two were men with microphones and one was a woman with a sign that had a bible verse on it. It took a lot of chutzpah (outrageous courage in Yiddish) to be in the minority in an otherwise happy crowd. Initially, passersby ignored them and a musician across the street increased her volume to drown out their hateful words. A few of the colorfully decked out teens confronted them peacefully and were encouraged to step back so as not to provoke them. Someone asked one why he was so angry and he denied expressing that emotion. Another asked why he was there and the response was that if she saw someone about to walk off a cliff, wouldn't she want to tell him and save his life? He equated it to the lifestyle that many there embraced or supported as an ally. His job, as he saw it, was to save souls. A man was dressed up as a bumble bee and bore a sign with an arrow on it, that said, "Shows up to every Gay event." The arrow was pointed at the protestor. He led some chanting to the sound of laughter. The protestor remained undaunted as he continued to speak, trancelike. The local police stood vigil and no violence ensued.
As an interfaith minister whose religion is love, this makes no sense to me. The Jesus I know as a kindred spirit doesn't hate or condemn. He would likely wag his finger and shake his head at those who use his name and teachings as a vehicle for enmity. When this trio returned home, can they honestly say there was any soul saving happening? Can they truly look themselves in the eye and justify their actions? I would love to see them look into their hearts instead and ask, "Who would Jesus hate?"
Judge not, that ye be not judged. For with what judgment ye judge, ye shall be judged: and with what measure ye mete, it shall be measured to you again. Matthew 7:1-2 KJV]