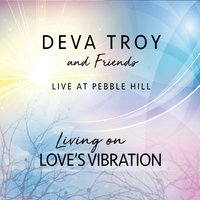 What would it be like to live in the vibration of love? Life on steroids. Colorful. Juicy. Peaceful. Soul-nourishing and heart expanding. On a natural high without a need for substances. In synch with your reason for being on the planet. How about if those heightened states of being could be captured in melody and harmony? The good news is that it is gathered up in one place: a newly released CD called Living on Love's Vibration, created by a musical diva named Deva Troy. In addition to being a singer-songwriter, she is a hypnotherapist, reflexologist, and interfaith minister.
Her voice is honey sweet (but not syrupy) and soaring, calling to mind Joan Baez, Joni Mitchell, and Judy Collins. She has the same socially conscience sensibilities as they do and much of her music is inspired by world events that call for peace and social justice oriented responses.
Such is the case with the songs on this 2018 release. It is a live album, recorded at Pebble Hill Church in Doylestown, Pennsylvania. An interfaith community, it welcomes people of all religious stripes and is referred to as a Peace Site. I was in the audience and enthusiastically chimed in along with a packed house crowd whose voices reached beyond the wood beamed ceiling and up to the heavens.
The inspiration for the title song came from her cat named Samson who had died shortly before the CD was birthed. It felt as if she was downloading the lyrics from her beloved feline, "Living on love's vibration. It's a healing sensation. It can heal your soul. It can make you whole."
Others include:
Anyone's Child was dedicated to the little boy from Syria, named Aylan Kurdi whose lifeless body was washed ashore a few years ago and brings tears to my eyes everytime I hear it. It speaks to the refugee crisis that impacts the world and puts a face and name to those otherwise anonymous people.
The upbeat Passion and Power invites listeners to clap along as they claim their own passion and purpose.
Next Generation celebrates the activism that our children are now embracing in the midst of the turmoil this nation is facing.
Another is the imagined conversation between the artist and the God of her understanding, who in this song is female and is entitled Heal Our World.
While remaining in the spiritual realm, the daring-to-wonder song, What Would Jesus Say (Today?) calls into account those who would justify bigotry and hatred in the name of One who came to teach love.
Lightning Rods speaks of the connection we embody between the realms of Heaven and Earth.
When my mind feels busy, buzzy and out of control, the antidote is the song, Out of My Mind, with the lyrics, "I want to live out of my mind and into the moment."
The Power of Love was inspired by a workshop Troy took about hypnotherapy and epigenetics with the idea that our environment and how we live can impact our genes as well as what we pass on to future generations.
The final song called Do Your Best was written in honor and memory of her sister Renee who had died last year. It is a tribute to her resilience and the love she embodied that lingers long after her passing.
Watching her perform as I have for many years, I felt an overwhelming sense of pride (in Yiddish…kvelling) as my friend did what she was born to do. Accompanied by Elena Marino, their voices blended beautifully as they serenaded us seamlessly.   Jim Davidson offers his percussion talents and Pier Jacalone contributes his mandolin virtuosity.
I floated out of the room high on love's vibration.
Order the CD here and experience your own higher vibe.  Living On Love's Vibration