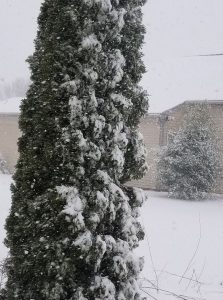 Writing this as I snuggle under the covers, listening to my favorite radio station WXPN from whence comes all sorts of music to tickle my ears and delight my soul. The wind outside my house sounds like a freight train as the  (hopefully) last hurrah of winter in early March. Perhaps the metaphor of the month coming in like a lion is more appropriate. Roaring wildly out there and the roads were snow-covered, slush puddly, and slip-slidey. I just returned home from my twice a month gig where I am blessed to teach mindfulness for 4-6-year-olds in a daycare center. These tiny humans are bright, articulate, creative, cute as a whole box of buttons, kind, caring, open to learning, and at the end of every session, hug swarm me. They are happy to show "Miss Edie/Evie" (depending on their pronunciation) what they know and what they can do. Today we learned about peacocks since someone had given me a book which I read to them about a peacock named Percy who discovers that he has a special gift for helping others feel good about themselves. I also brought a peacock feather given to me by my friend Kate who has some who live on her farm. We looked at it, noticed the eye in the center, passed it around and blew on it as we practiced relaxation breathing. They strutted their stuff, proud as peacocks as they expressed what they were proud of about themselves. Some spoke about things that made them brave, some shared about their talents. They also praised each other. I marvel at the impact this will have on them. Imagine if we had this kind of education available to us. How will the world change for the better as a result?
I look at my life and feel an immense amount of gratitude. I have right livelihood work that supports me well. I have family and friends who are my treasures. My body is vibrant and strong following a series of health challenges. Recent medical tests came back well. I live in a home that is colorful and eclectically decorated into which I welcome folks for gatherings. My mind is still intact, albeit with a few middle-aged moments kicking in from time to time. My car gets me where I need to go on the highways and byways of life. I make new friends each day. Anticipating opportunities to co-create wonder and they always show up. Miracle drenched me.
In the midst of all of this, I still imagine what awaits as the 'best days of my life (that) are coming for me.'
The Best Days of My Life
When I tell you baby that I got a problem
You say, "honey, hold on, I got it"
What you gotta say is you don't know anymore
Everybody's got 'em, it's a big bad world
But I, I want more
I wanna know what it's all for
'Cause the best days of my life are coming for me
Waiting to be realized
I keep my eye on that prize
If the best days that I know are just in the past
Am I gonna last forever?
I want more best days
I could've stayed in college but I didn't wanna
I dropped out and moved to California
Left Ojai for the next best thing
Got a pick-up truck
I want a diamond ring
Oh, oh
'Cause the best days of our lives are coming for us
Waiting to be realized
And it's not a surprise
If the best days that we'll know are just in the past
Are we gonna last forever?
I want more best days
I want more best days
I want more best days
I want more best days
I want more best days
I want more best days
I want more best days
I want more best days
'Cause the best days of my life are coming for me
Waiting to be realized
I keep my eye on that prize
If the best days that I know are just in the past
Am I gonna last forever?
I want more best days
I'm gonna last forever, ah yeah, ah yeah yeah
Oh, oh, yeah
'Cause the best days of my life are coming for me
Songwriters: Daniel Keyes Tashian / Elisabeth Corrin Maurus / Ian Fitchuk
Best Days lyrics © The Bicycle Music Company