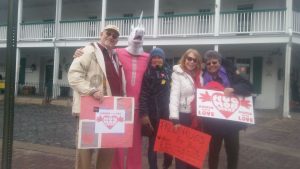 As I am writing this missive, it is Valentines' Day. It is one of the few holidays that is both loved and hated, depending on which end of the relationship spectrum you may find yourself. For some, Love is a Many Splendored Thing and the theme song for others is Love Stinks. Although I have never subscribed to the second state, I know those who avoid it like the plague, since they are convinced that there is no one out there for them that can help bring them to the first. At the moment, I am in an unusual paradigm. As someone who has not been in a committed relationship for more than 18 years, (longer than I was married), with some lovely short-term encounters and FWBs (Friends With Benefits) sprinkled in between, I have, at times, dreaded a holiday that was adopted to celebrate couples. As soon as Christmas and Hanukkah decorations are whisked from store shelves, up come heart embellished greeting cards with mushy sentiments (don't get me wrong, I am a marshmallow …chocolate covered, when it comes to romance and for half a dozen years I penned some of them as a greeting card text writer for Kathy Davis Studios), scripted on them, heart-shaped boxes of candy and other tokens of affection. At the moment I am garbed in a long white t-shirt embellished with vibrant red hearts and splashed with silver paint. Combined with well loved pink flannel pj bottoms with more hearts from the Life Is Good store, I am quite a sight.
In the interceding years, since being widowed in 1998, I have wondered if there would come a time when I would present a Beloved with one of the cards I wrote with the idea that perhaps it was written for that person all those years ago in anticipation. At the moment, they are stashed in a box awaiting the arrival of that One. Amazingly calm about it without that sinking feeling that I will be a solo act forever.  In my circles of friends, there are those who are happily entwined and those who are blissfully single. I have floated back and forth between desiring each state. There are certainly pros and cons to both.
Over the weekend, I was blessed to have guests stay over. Connecting originally by a mutual friend via Facebook, we met face to face for the first time on Friday night when they traveled from their home in Canada en route to Mexico on a few month trek throughout the U.S. Ayrlie and Patrick have been together for 12 years and are partners in both business and life. I enjoyed witnessing their interactions and the commitment they share. They seem to be easy going traveling companions; they would have to be in order to take on such an extended journey with unpredictable twists and turns along the way. Truly, no different than day to day relating. Having them here gave me an opportunity to express, "I'll have what they're having." (a nod to the iconic scene in When Harry Met Sally).
In a conversation with Ayrlie, we mused about the importance of being independent while also being intertwined. I have found that challenging both in my marriage and in relationships since then. I am a consummate caregiver who is compelled to be the emotional strength in all my relationships without a strong willingness to be in receptivity mode. These two were persistent in giving and in wanting me to receive. They cooked for me (yummy and oh so healthy vegetarian meals), Ayrlie gave me a few soothing pain relieving patches since I was nursing a neck injury that I encountered a few weeks ago, and loaned me an ultrasonic massager to ease away the ouchies. Seems that they travel with all manner of healing tools and nutritional pharmacopeia, preparing for nearly any eventuality. They were eager participants in a FREE Hugs Stroll in Doylestown, PA, on Saturday as well as Valentines' Day Hugs and Love workshop on Sunday. It was the 3rd anniversary of the founding of Hugmobsters Armed With Love that we were celebrating.
The experience of hugging friends and 'strangers' who become family of choice did my heart good.
Today, I will engage in loving full out, as I offer it to the one in the mirror and then scatter it to those I encounter in the next 24 hours.
What is that is heart and soul satisfying for you?