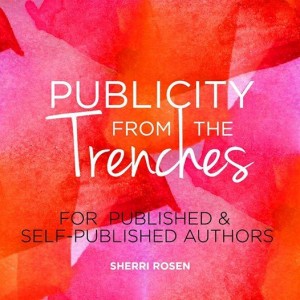 Some of those reading this blog  are, no doubt, in the creative fields of writing, speaking and teaching. You are good at what you do. People enjoy your words and look forward to reading what you have to share and attending your presentations and workshops. You come fully alive in those venues. One area that may not come as easily to you, is tooting your own horn.
That's where having someone to pull your light from under the proverbial bushel could really come in handy. Sherri Rosen, herself a NYC based publicist, has penned an e-book entitled Publicity From The Trenches . She leads the reader on a guided tour of the sometimes bewilderingly overwhelming arena, with wisdom gained and seat of the pants lessons learned over 30 years.
Rosen's initial foray into the field came as a surprise to her, but as she shares her unbridled enthusiasm all throughout, it is evident that this was something she was born to do. From the get-go, the book outlines what to look for in a good publicist and she encourages readers to ask pointed questions of anyone they are considering hiring, not settling for less. After all, this is a relationship between the author and promoter; a team in which the author and book are the star players.
Rosen encourages educated risk taking, acknowledging that there are no guarantees of specific outcomes. She speaks of the leaps of faith that authors need to take as they birth their 'baby' out into the world. This is not for the feint of heart. Believing in oneself  and one's creation are stepping stones that can lead to the desired success, according to Rosen.  She uses the term "Inspirational Publicity" to spread the word about what she refers to as "books that bless" and make a difference in the world.
While most, if not all writers, aspire to be New York Times Best Selling authors, she has also found that some write for the love of it and to share their message. They are not, however, mutually exclusive.  An investment in the book is also an investment in oneself  as an author, so Rosen reminds us. Trusting one's intuition with regard to steps to take to share one's book, is an essential ingredient as well.
As much as social media is an asset, it too has its limitations, since the writer runs the risk of seeming overly promotional and Rosen has heard many stories from those whose friends and fans have grown weary of what seems like ceaseless whirlwind attempts at drawing attention. A good publicist will have other tools up his or her sleeves.
Finding one's voice, both with a publicist and the audience is another crucial factor that can lead to a successful campaign. Letting prospective readers know how a book can enhance their lives, doesn't just happen by chance. It is a dance that sometimes has intricate steps.
Branding is another topic explored and Rosen encourages authors to craft an image that speaks to who they are as people and not just products.
Finding a competent and caring editor who can midwife a book, is also covered.
The book concludes with two guest contributors. One is Ann Tatlock and the other is yours truly who shared a bit called Writer's Runs.
Publicity From the Trenches can be of assistance in dream building and team building in service to one's creation.