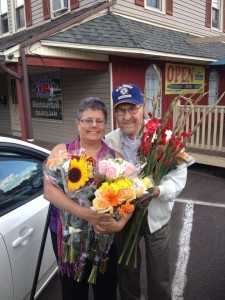 Today I was at the memorial service for a dear friend named Bob Goodwin who passed after nine decades plus one year. He died the day after celebrating his 91st birthday, surrounded by family and friends,  many of whom were gathered in the funeral home this afternoon. Although the reason we were all there was to grieve the loss of his physical being, it was a comfort to be with so many  (albeit, in some cases, tear stained) faces to celebrate a life well lived. Stories, songs, hugs and laughter permeated the room. Annabella Wood offered musical tribute with her from the heart version of Amazing Grace and an original piece called Always With You. The service was beautifully led by Rev. Glenda Smith who created a safe container for the myriad of emotions that were swirling about.
I have known Bob since 2001, when I  walked into the home that he shared with his wife Hannelore who is the minister of my interfaith spiritual community that I write about often here, called Circle of Miracles. From the get-go, I viewed them as family of choice; parent figures and friends all in one package and in their presence have always felt loved.  Although I didn't know the details of his life as well as some others in the room, it didn't surprise me to know how musically talented he was. I had heard him play harmonica at our recent talent show and today at the service, one of his grand-daughters played back a recording of him (with Hannelore harmonizing) serenading her with a rollicking rendition of Happy Birthday.  Apparently, it was a family tradition that all the grandkids treasured; Opa (German for grandfather) singing to them on their day of days.
I had a story to share about Bob that remains one of my favorite memories of him. Back in 2007, I had a dream that Bob had a health crisis and the next day, it was confirmed, when I found out he had been hospitalized. I went to visit him and offered him Reiki to help his healing process. I asked him if he was planning on checking out (not from the hospital), but from this incarnation. He shook his head and responded that initially, he wasn't sure, but at that moment, he reported that he had chosen to stay on this side of the veil. It was then that I began calling him "Miracle Bob". Seven years later, I still think of him that way.
One of Bob's roles at Sunday morning services was that of sharing what we call Spiritual Seeds which are inspirational stories. His favorite which was read by his step- daughter, Teri Goggin- Roberts is called Keep Your Fork, attributed to Roger William Thomas.
"A woman was diagnosed with a terminal illness and given three months to live. She asked her pastor to come to her home to discuss her final wishes. She told him which songs she wanted sung at her funeral, and what scriptures to read, and which outfit she wanted to be buried in.
Then she said, "One more thing. I want to be buried with a fork in my hand."
The pastor was surprised. The woman explained, "In all my years of attending church socials and potluck dinners, I always remember that when the dishes of the main course were being cleared, someone would inevitably lean over and say, `Keep your fork.' It was my favorite time, because I knew something better was coming, like velvety chocolate cake or deep-dish apple pie — something wonderful. So, I want people to see me there in that casket with a fork in my hand and wonder, 'What's with the fork?' Then, I want you to tell them, `Keep your fork, because the best is yet to come."'
The pastor's eyes welled up with tears of joy as he bid the woman goodbye. He realized that she had a better grasp of heaven than he did, and knew something better was coming.
At the funeral, when people asked him why she was holding a fork, the pastor told them of the conversation he'd had with the woman before she died. He said he could not stop thinking about the fork, and knew they probably would not be able to stop thinking about it, either. He was right.
Keep your fork.The best is yet to come."
As a result of hearing this tale, Bob began to wear a small fork as a pendant around his neck and when people would ask the significance, he would share the story.
A few years ago, Bob teamed up with our friend Patricia Gallagher on the Flower Lady Project. She picks up posies at Trader Joe's who donate them and she and her helpers deliver them to residents of nursing homes and assisted living programs. I heard today that he would sometimes bring his harmonica and entertain the Residents with old standards. I imagine they sang along enthusiastically.
The photo above, taken by Patricia was shot after the three of us had breakfast at a local diner. I went to work afterward and they went off on their merry way to scatter joy~
I will miss you, Seed Man!  I look forward to hearing what manner of culinary delight awaited you upon your arrival.