"Follow your bliss and the universe will open doors where there were only walls."-Joseph Campbell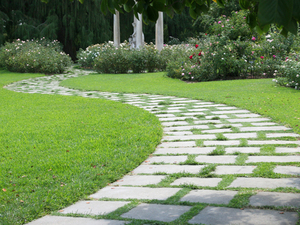 The words of teacher, philosopher, and writer, Joseph Campbell have long inspired me since I first heard their beckoning call in my early 20's as an idealistic college student. I have noticed that the people who live their bliss, discover all sorts of doors through which they easily move, rather than staring in bewilderment at what they perceive to be an impediment.
Which category describes you and your world view? And what would your life be like if you made the choice to truly follow your bliss?
Imagine beginning each day by creating a list of what it is that brings you bliss and then (here's the important part) engaging in one or more of them. What would your life be like if you did that? And then, just imagine the ripple effect that would come from living your bliss.
I am blessed to know a lot of people who truly live and follow their bliss. I asked some of my favorite folks, as well as some of our readers, about what it is that brings them bliss and they were glad to oblige.
What does it mean to you to follow your bliss? Please share in the comment section below.
Loving Life as a Mother, Grandmother and Wife
"I'm a mom of three great human beings, and a grandmother to four more. I work as an editor of legal transcripts from home in my jammies every day, and, of course, as you and everyone knows, have the pure and delightful pleasure of living each and every day with the love of my life and my best friend. Now if that ain't bliss, I don't know what is. "I live my bliss each and every day by loving what is. Many years ago when I met my husband and my soul mate, he called me a cheap date. "You are so easy to please," he said. And I suppose I am. And it's all been wonderful. I am thrilled each day by the most seemingly mundane things, and it continues on after 63 years. I can't imagine being any other way" -Susan Doty
Being Spontaneous
"I live my bliss by being spontaneous, as spontaneous as I can in the moment, and doing what my heart desires. As I get better at this I find I can follow my heart and be in the present wherever I am and whatever I am doing. Doesn't ALWAYS work, but I'm getting better! Did it all day today. It was the best!"-Denny Daikeler
Seeing the Light in the Face of Another
"I am fully living my bliss~ and moved beyond words when I am teaching and I see the light ignite in someone's face, eyes and body~ when I witness that "whole body Ahhh-Haa" ..I want to drop to my knees and thank the gods that I get to experience namaste connections like that in this life:)"- ~Robyn Evans , Director of The Soul Center
Gathering with Kindred Spirits
"One of the ways I live my bliss is by gathering with kindred spirits and enjoying the special energy created when people of like mind come together. We may come from different paths, faiths and backgrounds, but the collective energy of compassion, love and joy is awesome!"-Victor Fuhrman
Music that is Moving
"I am a musician, so it is probably no surprise that when I want to live my bliss I turn on some music. Music always enhances my mood. If I am feeling introspective, I will put on Enya, or something like that. If I am looking forward to cleaning the house it will be oldies or country; definitely country/rock for a long drive and classic rock for indoor exercise. Music brings out the bliss in any activity. For meditation, it is the awesome music from within, usually accompanied by the still tones of silence in the room. There's nothing like music for blissing myself."- Annabella Wood, Musician
Loving Your Work
"I live my bliss by hosting really awesome speakers and authors from all over the country. The topics of their seminars must be very exciting to me, and if they are readers, they must give me a session which really knocks my socks off!! I love this "work" because I learn so much, as do my clients, who are thrilled with the quality and diversity of the speakers. It's wonderful when your bliss is fulfilled through your job!!- "Susan Duval, Susan Duval Seminars

Writing Success Stories
"To help myself and others write and live personal success stories rich with passion, adventure and dream come true connections through a process called Scripting for Success TM -Ruth Anne Wood, director of Scripting for Success
Chanting the Name of the Divine
"I live my bliss in lots of ways, but especially through chanting the many names of the Divine, through singing kirtan and chants from many different spiritual traditions. It uplifts me, opens me, grounds me, makes me feel fully alive. It's especially juicy when I'm doing this with other musicians and singers. It's an interesting paradox that, although "the Tao that can be named is not the Eternal," it is through chanting the names that I am brought to an experience of the Nameless. "- Rev. Jody Kessler, Interfaith Minister, singer- songwriter, devotional chant leader, yoga teacher.
"One way I live my bliss is to remind myself to always have a great sense of humor in life! The universe/Gods/Goddesses are actually very funny, and they show me in different ways to always keep a sense of humor in life! (Sometimes its a matter of showing me how my cats or dog find ways to be funny to make me laugh at the most opportune moments!"-Brian

Living Life With An Open Heart
"Living life with my heart open and available to everyone and EVERYTHING!" –Monique Darling

Being Spontaneous
"Well, I live my bliss by being spontaneous, as spontaneous as I can in the moment, and doing what my heart desires. As I get better at this I find I can follow my heart and be in the present wherever I am and whatever I am doing. Doesn't ALWAYS work, but I'm getting better! Did it all day today. It was the best!"-Denny Daikeler
Focus on What Makes You Passionate
"I live my bliss when I focus on what impassions me. Sometimes I have to remember what that is! Recently I was preparing for my first Goddess Group. I was researching some of the various ways the Great Mother has been honored throughout history. It stirred up so much excitement in me! I think it was partly because I realized I was on a path of purpose – something I think I am meant to be doing on this Earth at this time." -Cindy Greb
Take Time for Personal Transformation
"My way of living my bliss is to remember that I am a Goddess Extraordinaire, and to make time for personal transformative work as well as do everything within my power to make my work service done with love."
Orrie M. Schulman
Founder of Caring with Compassion (disability services)
Lost in Love
"Being lost in the love of family and friends." – Marlena Fox Tillman
Expressing Gratitude
"Being thankful for each day. Sending out healing love. Doing my daily best." – Carol Orticari
A Smiling Heart
"My Bliss is: What makes my heart smile." – Debbie Fox