In this was manifested the love of God toward us, because that God sent His only begotten Son into the world, that we might live through Him. I John 4:9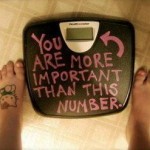 Numbers — they describe many things — but none of them describe your worth. Your value can't be measured with the bathroom scale. Smaller numbers don't make you worth more, nor are you diminished when the scale spins up to the larger ones.
The numbers in your bank account don't measure your worth, either. The numerals in your street address don't tell who you are, regardless of whether they represent the biggest of mansions or the most modest apartment.
God is infinite. He sees far beyond numbers and has a measuring stick we can never live up to — perfection. Yet, He also showed us how much He values us. He allowed His perfect Son to suffer the ultimate punishment and shame as He took the guilt and blame for the sins of His people.
How much are you worth? You are worth the cross of Christ. If you are His, never doubt your value. You are priceless.
Eating to live and living for Christ,
Susan Jordan Brown