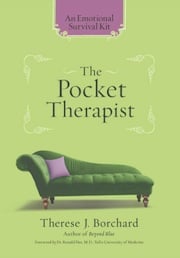 I have decided to dedicate a post on Thursday to therapy, and offer you the many tips I have learned on the couch. They will be a good reminder for me, as well, of something small I can concentrate on. Many of them are published in my book, "The Pocket Therapist: An Emotional Survival Kit."
Mother Teresa once said, "Whatever our religion, we know that if we really want to love, we must first learn to forgive before anything else."
My best friend, Beatriz, taught me that same lesson 15 years ago when I read aloud to her on the phone the letter I wanted to send my dad: a list of all the important events in my life that he hadn't showed up for and why that was wrong. Granted, I had good reason to be hurt, and it may have been appropriate to send the letter.
But it wouldn't have helped me love him any better.
"I don't think that letter is going to do anything but make him feel guiltier than he already feels, and then keep you that much more out of his life," my very wise friend told me. "Why not make a list of all the things you love about him? Why not forgive him for the mistakes in the past? Why not tell him that you love him so much and want to have a better relationship with him?"
So I did that.
I told him all of that.
And he cried like a baby, and embraced me in a gentle way I had yet to experience by my father. He also apologized, with undeniable sincerity, for some of his immature and selfish choices throughout the years. As I did.
And then I had three more months to love him before he died.
* Click here to subscribe to Beyond Blue and click here to follow Therese on Twitter and click here to join Group Beyond Blue, a depression support group. Now stop clicking.