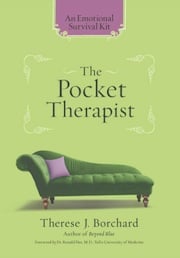 I have decided to dedicate a post on Thursday to therapy, and offer you the many tips I have learned on the couch. They will be a good reminder for me, as well, of something small I can concentrate on. Many of them are published in my book, "The Pocket Therapist: An Emotional Survival Kit."

A few weeks ago I took David to a Navy baseball game. It was the fourth inning and Navy was losing, 9 to 2. A Navy guy gets up to bat and hits a double, steals base, and after the next hit was able to run home. Next thing you know, the bases are loaded and wham!, the batter hits a home run.
"That's right, that's right," one of the parents behind me yelled. "Change the momentum."
"Isn't it wild that just one run can alter the energy of the game?" another parent said to the guy yelling behind me.
I thought back to July of last summer, when I couldn't stop crying for a few days. I was scheduled to go to New York for an interview with a magazine and wondered if I should cancel. I went and got through the interview as best I could, escaping afterwards to St. Pat's Cathedral, where I continued to sob.
But then that night I went out with some friends and laughed harder than I had in a very long time–they were all telling St. Peter jokes, but the kind you wouldn't find in a Catholic manual–and I felt the momentum shift. In that healing laughter, I knew I was on the mend.
I explained this to a friend of mine who was there that evening, and he said, "Isn't it great when we can catch the snowball and throw it back in the right direction?"
I guess that's what happened.
Somewhere in between the calamari and buffalo wings, I caught my snowball, before it was too heavy to lift … before I would need the intervention of my doctor or a medication adjustment.
When I can–and there are plenty of times I simply can't, I admit that upfront–I try to catch the snowball, to nip my anxiety in its bud … to shift my energy from the problem to the solution, from the infirmity to the remedy, from disorder to good health.
* Click here to subscribe to Beyond Blue and click here to follow Therese on Twitter and click here to join Group Beyond Blue, a depression support group. Now stop clicking.