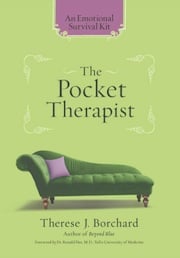 I have decided to dedicate a post on Thursday to therapy, and offer you the many tips I have learned on the couch. They will be a good reminder for me, as well, of something small I can concentrate on. Many of them are published in my book, "The Pocket Therapist: An Emotional Survival Kit."

I don't know about you, but I could have never raced off on a two-wheeler without first mastering my four-wheeler. In fact, tragic was the day the training-wheel fairy landed at my home and took off with my two little wheels. I still mourn them. Which is why I use a similar system when the task before me becomes too big or too tall.
Take the system that Al Gore created … the Internet. When I receive an email in my in-box, I feel pressured to respond immediately because I am a stage-four people-pleaser. I used to stop what I was working on, read it, and respond. That was until responding to email began to consume my day. When I was unable to finish my projects during working hours, I stayed up late to work, which caused another set of problems soon to be discussed.
I decided to try on a handy, dandy set of training wheels, in the form of an automated response. It said this: "I will have limited access to my e-mail for awhile, so while appreciate your writing to me, I may not be able to respond. Thank you for your understanding."
The result? I didn't feel guilty for not responding, and I could better weed out the important emails from those that I could discard. I left the automated response on for two weeks … long enough for my people-pleasing brain to catch on that people don't really care if they don't hear back from me. Duh, they are too busy worrying about themselves.
* Click here to subscribe to Beyond Blue and click here to follow Therese on Twitter and click here to join Group Beyond Blue, a depression support group. Now stop clicking.