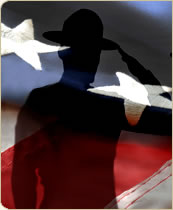 Dr. Val Jones (formerly of Revolution Health) published an interesting interview with Richard K. Harding, M.D., professor and chair of the Department of Neuropsychiatry and Behavioral Science and an adjunct professor of pediatrics at the University of South Carolina School of Medicine, about mental heath and the military. To get to the interview click here. It begins:
I met Dr. Harding at a press conference announcing the expansion of the Give an Hour initiative and really enjoyed our candid conversation about the unmet mental health needs of veterans of the war in Iraq and Afghanistan. It is sobering to know that many hundreds of thousands of soldiers are returning to the U.S. with traumatic brain injuries and post traumatic stress disorder. They volunteered to give up their lives for us, will we volunteer to care for them?
* Click here to subscribe to Beyond Blue and click here to follow Therese on Twitter and click here to join Group Beyond Blue, a depression support group. Now stop clicking.