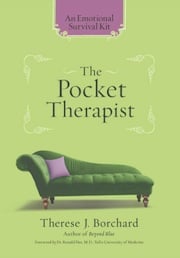 I have decided to dedicate a post on Thursday to therapy, and offer you the many tips I have learned on the couch. They will be a good reminder for me, as well, of something small I can concentrate on. Many of them are published in my book, "The Pocket Therapist: An Emotional Survival Kit."
"Do it anyway" also means "send it anyway" … you know, the manuscript you're sure is worse than an engineer's memoir, the proposal that you are positive will get rejected, the self-introduction to the editor who you are certain doesn't give a damn about your mission to educate 6 billion people about mental illness.
Send all those things, because, as my hero Helen Keller once wrote, "Avoiding danger is no safer in the long run than outright exposure. Life is either a daring adventure or nothing."
That's right. Go ahead and dare.
* Click here to subscribe to Beyond Blue and click here to follow Therese on Twitter and click here to join Group Beyond Blue, a depression support group. Now stop clicking.