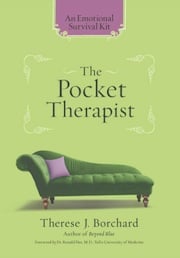 I have decided to dedicate a post on Thursday to therapy, and offer you the many tips I have learned on the couch. They will be a good reminder for me, as well, of something small I can concentrate on. Many of them are published in my book, "The Pocket Therapist: An Emotional Survival Kit."
And finally, "do it anyway" applied to relationships means that you need only concern yourself about your side of the friendship, marriage, or golf foursome.
In 1960, author Kent Keith came up with the ten principles that he calls the Paradoxical Commandments. The first one says, "People are illogical, unreasonable, and self-centered. Love them anyway." This pertains to persons blessed with good brain biochemistry, and to those that aren't.
So when your mother has just given up smoking and drinking in the same week, you must not cancel that trip you planned to go see her, even as you are mighty tempted to bail. Definitely arrange some "day trips" (or exit strategies) during your time with her. Possibly bring some armor, like a few unflattering photos of her you can threaten to upload onto Facebok. But you must lover her–withdrawal symptoms and all.
* Click here to subscribe to Beyond Blue and click here to follow Therese on Twitter and click here to join Group Beyond Blue, a depression support group. Now stop clicking.