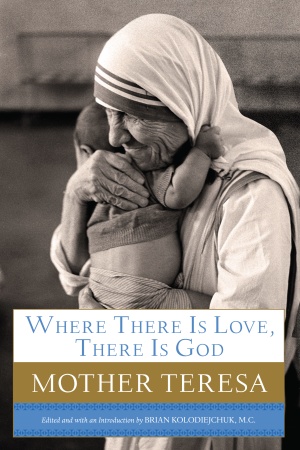 Three years ago, Mother Teresa graced the cover of Time magazine when her private writings were published, many of the excerpts filled with surprising doubt, despair, and a kind of spiritual anguish. I was lucky enough to get one of the first copies because my literary agent is the one the Sisters of Charity chose to represent them. And so I also received an advance copy of the sequel: "Where There Is Love, There Is God."
It's a beautiful prayer companion, and is filled with joy, love, wisdom, and some very practical advice. I thought I would excerpt three pieces on prayer, since that is the foundation for a healthy mental life as well as a spiritual life, and because I've been struggling with prayer throughout this summer.
Our Foundation
If our life is without prayer, it is like a house without a foundation. The other day I saw a ten storey building, beautiful, completely finished, but they had to break it down because the foundation was only for a one storey building, and they were forced to break it down–and the whole thing was completely painted and everything–but they had to break it down. Our life of prayer … let it be the foundation, the beginning. But then that life of complete surrender and loving trust, these are stories to help us climb closer, closer. And as we come, first thing: pure heart, and that real union, that complete attachment to Christ. If that is not there, it is like building a ten storey building on a foundation made for only a one storey–and what happens? It breaks.
When We Can't Pray
And when time comes and we can't pray it is very simple: if Jesus is in my heart let Him pray, let me allow Him to pray in me, to talk to his Father in the silence of my heart. If I cannot speak, He will speak; if I cannot pray, He will pray. That's why often we should say, "Jesus in my heart, I believe in Your faithful love for me." And often we should be in that unity with Him and allow Him, and when we have nothing to give–let us give Him that nothingness.
When we cannot pray–let us give that inability to Him….Let Him pray in us to the Father. Let us ask Him to pray in us, for no one knows the Father better than He. No one can pray better than Jesus. And if my heart is pure, if in my heart is Jesus, if my heart is a tabernacle of the living God to sanctify in grace: Jesus and I are one. He prays in me, He thinks in me, He works with me and through me, He uses my tongue to speak, He uses my brain to think, He uses my hand to touch Him in the broken body.
What Jesus Taught Us
The most important thing is to learn to pray. Very strange: Jesus did not enter into long discussions–high flown language, but He said: "When you pray, pray like this: "Our Father …"–that intimate oneness with the Father. He was so intimately united with Him that He wanted to be like Him. Again and again that beautiful simple word: Father. "My Father"–even little children can say it. We are creating all kinds of difficulties in our prayer. Let us go back to what Jesus has taught us–simple and intimate prayer–"Our Father." Avoid anything that will take you away from this, so that in your teaching, in your life, you can hear Him in all that He says, and do the will of the Father. For this we need a clean heart.
* Click here to subscribe to Beyond Blue and click here to follow Therese on Twitter and click here to join Group Beyond Blue, a depression support group. Now stop clicking.