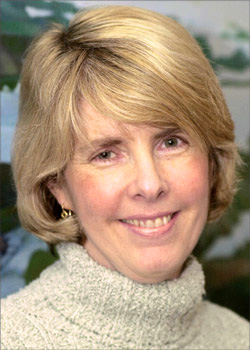 Jacqueline L. Salmon wrote a beautiful profile of my mental health hero, Kay Redfield Jamison, in BP magazine. It captured the personality and life experience behind the bestselling author and expert on manic-depression. After I read "An Unquiet Mind," I somehow thought her struggles were in the past. Not at all. She still has "rough patches" and somehow, just hearing that, comforts me in mine. I've excerpted part of the article. You can get to the original by clicking here.
The small woman in the black sweater sitting near the podium at the Depression and Bipolar Support Alliance (DBSA) annual conference in Norfolk, Virginia, was intent on her notes, preparing for her keynote address to the crowded auditorium.
One by one, her admirers appeared. They lined up to ask her about medications and doctors, or to vent their frustrations about a medical system that often seems to little understand their illness. And one by one, Kay Redfield Jamison, PhD, listened patiently and answered their questions.

With her blond hair, upturned nose, and girlish cotton skirt and sandals, Jamison looks much younger than her 62 years. She raises her eyebrows when told that she had been expected to be more subdued. "I'm not a quiet person," she says with a laugh.

Lively and sharp-witted with almost a bird-like quality to her, Jamison sat for a brief interview with bp Magazine at the DBSA meeting in September 2008. It's tough to get Jamison alone at such a gathering. She is continually bombarded with admirers; she listens to their stories, nodding sympathetically to tales that must seem woefully familiar to her by now. After a few minutes, she slips away from one conversation, only to be wrapped up in another.

At a reception the evening before her address to the DBSA conference, Jamison carefully slid her chair out from against a wall with a practiced gesture so she wouldn't be trapped if she needed to move away from questioners. The public attention Jamison faces is constant–she received 30,000 letters following the publication of her bestselling 1995 memoir, An Unquiet Mind, a raw and honest story of her own battles with bipolar.

Indeed, the author of five books and more than 100 scientific articles about bipolar disorder has become the public face of the illness because of the book's impact, and also from her appearances on popular television programs like The Oprah Winfrey Show and Larry King Live.

Those suffering from bipolar illness certainly see her as one of them.

"Her book was very inspiring," says Susan Millikan of Concord, New Hampshire, who attended the DBSA meeting in Norfolk, marveling at "all that she went through, and she came out from it."

Recent years have brought significant challenges to Jamison. Her mother, Dell, with whom she was very close, died in 2007. Her husband, Richard Wyatt, chief of neuropsychiatry at the National Institute of Mental Health and "the major support" in her life, died in 2002. But Jamison and her friends say she has rallied from these losses. Moreover, the lithium that she has been taking for more than three decades continues to curb her illness. Despite a "rough patch" last summer, Jamison tells bp Magazine that she is feeling well. "I've been very, very fortunate," she says.

"How she manages is an inspiration," says Myrna Weissman, PhD, professor of epidemiology and psychiatry at Columbia University and chief of the Department in Clinical-Genetic Epidemiology at New York State Psychiatric Institute, who has known Jamison for years. "She has great intelligence, great spirit, and a wonderful family, and her personal qualities attract many friends who love and support her when and if she needs it."
Click here to continue reading.
* Click here to subscribe to Beyond Blue and click here to follow Therese on Twitter and click here to join Group Beyond Blue, a depression support group. Now stop clicking.