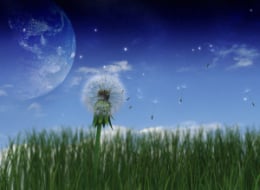 In the 1980s psychologist Everett L. Worthington, Jr. Ph.D., began studying forgiveness while working with troubled couples. On New Year's Eve, 1995, his mother was murdered. Dr. Worthington then dedicated his life to encouraging and educating people about forgiveness. He turned grief into mission by writing books, speaking, and founding A Campaign for Forgiveness, which has raised millions of dollars to support the search of forgiveness.

In her book,
"The Law of Forgiveness,"
author Connie Domino devotes a chapter to the scientific evidence for the power of forgiveness. Some of the studies she includes are fascinating, and will have you dump your righteousness and mend the strained relationships in your life before you're ready.
For example, Dr. Fred Luskin, director and cofounder of the Stanford University Forgiveness Project, conducted research on college-age adults and younger- to middle-aged adults from Northern Ireland who had lost family members to the bloodshed in that area. His first study found that people who were taught to forgive became less angry and more optimistic, compassionate, and self-confident. They also carried less stress.
Dr. Tom Farrow, a clinical psychologist from the University of Sheffield, in the United Kingdom, studied the effects of forgiveness on the brain. Using high definition magnetic resonance imaging, he and his colleagues scanned the brain, and found that when a person is forgiving there is an increase in activity in the frontal lobe of the brain, the zone also responsible for problem-solving and complex thought, or the higher functions of thinking and reasoning.
Other studies of forgiveness have found it good for your heart. One study from the Journal of Behavioral Medicine associated forgiveness with lower heart rates, lower blood pressure, and stress relief. Another from the University of Tennessee and University of Wisconsin, Madison, attributed forgiveness to fewer medically diagnosed chronic conditions and fewer physical symptoms from illness.
The first few years of my recovery from alcohol abuse, I remember the old timers warning the newbies about the danger of anger. "You have no choice but to forgive and move on," they told us, "because if you don't, you'll end up drunk again." It seemed overly dramatic and exaggerated at the time, but now, contrasting the times in my life that I have been able to forgive with the times I clung to my resentments much like a baby blankie, I recognize the wisdom of their words. With forgiveness comes a shocking amount of power and healing. It propels us from a place of dis-ease and anxiety toward emotional, physical, and spiritual health.
* Click here to subscribe to Beyond Blue and click here to follow Therese on Twitter and click here to join Group Beyond Blue, a depression support group. Now stop clicking.