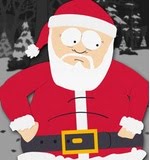 Fellow blogging buddy John McManamy has some great, simple holiday advice on his blog. Be sure to check out his witty insights at Knowledge Is Necessity. Among them:
Keep your expectations low. We tend to do the very opposite, then find ourselves dealing with the disappointment. You will be a lot better off if you don't think of the holidays as a time to strengthen your bond to your loved one, impress your parents, reconcile with a difficult brother or sister, or be a hero to your nieces and nephews.
Take time out for yourself. The holidays put us in situations where we are easily overstimulated and overwhelmed. If you sense a force nine family fight about to break out at the table, don't be afraid to summarily remove yourself from the scene. The same holds true even if there is no family tension, even if everyone is enjoying themselves. You don't need a good excuse to make an exit – any bad one will do.
Plan ahead. The less surprises the better. The less last-minute rushing around the better.
Figure out your needs. Some of us need to be around people. Some of us are better off taking a Sabbatical from humanity. Don't let family obligations and other duties affect your decision. We are all dealing with a severe chronic illness, with huge consequences when things go wrong. Interpersonal stresses can set us up for a crash and burn at one end, isolation can make us sitting ducks at the other. The only wrong decision is the one you make against your own best judgment.
To get to John's blog, click here.
* Click here to subscribe to Beyond Blue and click here to follow Therese on Twitter and click here to join Group Beyond Blue, a depression support group. Now stop clicking.