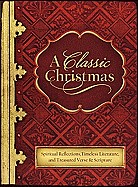 During the Christmas season I will be quoting from "A Classic Christmas," a compilation of beautiful reflections, meditations, and scripture passages. I hope that these selections will help you to enter into this holy season and remember to rely on your faith as a guiding light.
Take time to be aware that in the very midst of our busy preparations for the celebration of Christ's birth in ancient Bethlehem, Christ is reborn in the Bethlehems of our homes and daily lives. Take time, slow down, be still, be awake to the Divine Mystery that looks so common and so ordinary yet is wondrously present. -Edward Hays
* Click here to subscribe to Beyond Blue and click here to follow Therese on Twitter and click here to join Group Beyond Blue, a depression support group. Now stop clicking.