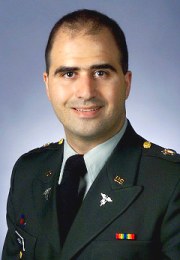 I've read plenty about the psychology of Major Hasan, and what would cause one to open fire like the tragedy at Ft. Hood. Of all the articles I've read, I think John Grohol of Psych Central makes the best case for why this happened and what we can learn from it. In his post called "The Psychology of Hasan: The Ft. Hood Shooter," Grohol writes:
One might say that the Internet postings attributed to him, if authenticated, were really cries for help and to be heard — "Look at me, I hate your war and am a loaded pistol just waiting to go off. Let me out of the service." But investigators hadn't progressed very far in examining whether to take the postings seriously and if they were even made by Major Hasan.
Between the on-base harassment for his religion, his denial of a request to be released from military service early (although it's unclear he ever actually formally tried to do this), and his upcoming deployment to the theater of operations in the Middle East, combined with his own anti-war views and unapologetic religious beliefs all seemed to have led to this man committing the most tragic and irrational act imaginable.

As I've argued previously, such acts can never be fully understood or explained because at the core of it, they are irrational acts. Many people object to the war, but virtually none of us kill others to make that point. Many people, when they feel like they have no way out of their life and have lost all hope, turn to suicide. But for some reason, a very tiny percentage of people take that inward anger (depression) and turn it outward, against others, in an act like this one.

This isn't to apologize for Major Hasan's actions or try to minimize their impact. Indeed, what Hasan has done is to likely change the very way the military looks at its own base security and how it handles soldiers internally who seem to have significant issues that are not being successfully resolved. And perhaps — just maybe — it will again reinforce to the heads of our armed services, the vital impact mental health plays in soldiers' lives. While it's possible nothing could have changed the outcome of this particular tragedy, perhaps there are things we can learn to help prevent future such tragedies occurring.
To continue reading Grohol's article, click here.
* Click here to subscribe to Beyond Blue and click here to follow Therese on Twitter and click here to join Group Beyond Blue, a depression support group. Now stop clicking.