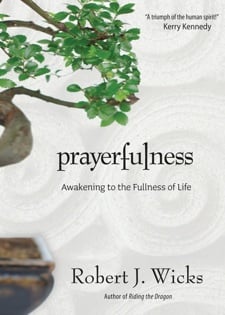 One of my favorite authors is Robert Wicks because, as a professor of Pastoral Counseling at Loyola University Maryland, he is constantly integrating spirituality with psychology, and offerings ways to prevent secondary stress, the pressures encountered by those who work in helping fields. One of his recent books is called "Prayerfulness: Awakening to the Fullness of Life," and it is an excellent companion for folks like me who can't afford to burnout in attempt to do good in this world. Wicks calls section one "Navigating the Perils of Spirituality Intimacy." In it, he provides some helpful tools to keep your spirit alive so that you can manage your stress as your telling everyone how to get rid of theirs.
1. Create Simple Rituals
Rituals help us to be spiritually mindful of what is before us by focusing our attention on the task at hand. Thus, rituals can transform simple acts into sacred experiences. Simple rituals of prayerfulness balance the secular obsession with success, fame, power, physical attractiveness, money, or simply getting our way. They help prevent such normal human desires from becoming idols. Simple rituals can ensure that we are spiritually awake.
2. Soften the Soul
Being prayerful and awake to God's presence in our lives certainly doesn't take away the pain or the guilt–nor should it–but it does something with our negative experiences so we can learn, deepen, grow, and maybe even soften.
3. Honor Life's Fragility
The life we have on this earth is precious and short. Prayerfulness leads us to remember this and honor's life's fragility, to value what and who is really important in our lives in a more sensitive way.
In that chapter Wicks quotes meditation expert Jon Kabat-Zinn, who, in his book "Wherever You Go, There You Are," writes:
If what happens now does influence what happens next, then doesn't it make sense to look around a bit from time to time so that you are more in touch with what is happening now, so that you can take your inner and outer bearings and perceive with clarity the path that you are actually on and the direction in which you are going? If you do so, maybe you will be in a better position to chart a course for yourself that is truer to your inner being–a soul path, a path with heart, your path with a capital P. If not, the sheer momentum of your unconsciousness in this moment just colors the next moment. The days, months, and years quickly go by unnoticed, unused, unappreciated ….
4. Face Sadness Directly
There is a lot at stake during the gray periods of our lives, difficult times when we sit quietly by ourselves or reach out to others who are suffering. Sadness, and the other feelings that draw us to places we'd rather not go, can offer us new direction. When we invite meditation and prayerfulness into the troubling places in our life, suffering can actually become a window to deep inner wisdom.
When sadness or suffering is faced directly with God, we can change the destructive relationship we have with it. Instead, it can become an awakening, possibly even an epiphany, to enhance the next moments in our life.
5. Befriend Anger and Other Negative Emotions
Anger can lead us to many and varied emotional and spiritual places. For instance, it may pull us back within ourselves to sit with resentment or self-blame. Or, it may guide us in another direction to face ourselves as well as the injustices in the world. In the process of a journey such as this, it can be empowering and call us to greater involvement. There are examples of this all around us as well as within our own life experiences. But, as we know, we must have the eyes to see, "eyes" that true prayerfulness can afford us.
6. Honor "Unofficial Retreats"
Thomas Merton once noted that illnesses can be opportunities to quiet ourselves down, let go of the world's demands, and open ourselves to some unexpected time alone with God.
7. Appreciate inner Companions in Hope
In facing trauma and sadness, people who hold onto the "why this has happened to me" question have great difficulty letting go and advancing. It's similar for people who move through life expecting justice. They become disillusioned, whereas those who reach for love and are open to see it and God's presence in new ways amidst the very evil or trauma they are experiencing turn to live in the face of it in new ways. They discover hope as their inner companion and know that just as some others who have been traumatized an be transformed into especially compassionate souls, they, too, can face injustice with new-found strength if they are open to hearing God's surprising voice.
To read more Beyond Blue, go to http://blog.beliefnet.com/beyondblue, and to get to Group Beyond Blue, a support group at Beliefnet Community, click here.
To subscribe to "Beyond Blue" click here.