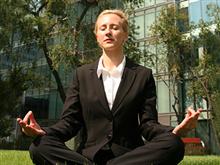 If you want to bring down the temperature in that pot of yours BEFORE YOU BOIL, I urge you to read Liz Owen's great gallery, "12 Yoga Poses for Your Workday." Liz writes:
Have you always wanted to try yoga, can't find the time in today's busy and competitive world? Have you heard yoga's a great stress buster, but think you can't stop running long enough to take a deep breath? Then this sequence of yoga poses is for you! No matter how highly scheduled your day is, you can practice these simple yoga movements.
In between meetings and conference calls, day care and doctor's appointments, each of these poses will draw your senses away from the outside world and help you look within to find peace and renewed energy from the moment you wake up until the end of the day.
Begin the workday yoga sequence.
To read more Beyond Blue, go to http://blog.beliefnet.com/beyondblue, and to get to Group Beyond Blue, a support group at Beliefnet Community, click here.
To subscribe to "Beyond Blue" click here.