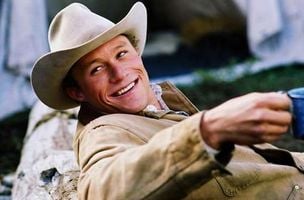 I'm searching for what, exactly, to say about what news reports are indicating might be a suicide by Heath Ledger, and all I can come up with are the words "he was ill," spoken by the family of the late comedian Richard Jeni, who took his own life last year this time. I also remember the sentiments of the family of Brad Delp, lead singer for the band "Boston":
He was a man who gave all he had to give to everyone around him, whether family, friends, fans or strangers," the family said. "He gave as long as he could, as best as he could, and he was very tired. We take comfort in knowing that he is now, at last, at peace.
Regardless of the details of Ledger's death, I think William Styron's words comfort:
The pain of severe depression is quite unimaginable to those who have not suffered it. To the tragic legion who are compelled to destroy themselves there should be no more reproof attached than to the victims of terminal cancer.

The eminent novelist of "Sophie's Choice" and "Confessions of Nat Turner" penned his memoir, "Darkness Visible: A Memoir of Madness," as a response to the public's reaction to the suicide of Primo Levi, the Italian-Jewish writer and chemist who had survived the Holocaust. The scholars who admired Levi wondered how he could have endured years of torture by the Nazis yet break under depression.
I can't count the number of times I've paged through Styron's book to validate my own pain and anxiety, to know I'm not exaggerating or making it up as some friends and family members (and all insurance companies) would like to believe. Just as seasoned parents say "You wait!" to the pregnant lady in front of them at the checkout line, a person can't begin to appreciate the harrowing darkness of depression unless she's been there.
And so to the families of all sad tragedies, I extend my love and support. Again, even if Ledger didn't take his life, I still pray that he and other young men and women who have died too young find their peace, and I pray that you might find strength and comfort in knowing that you are in our prayers.