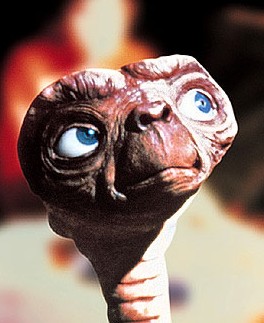 Well, I may not make it to paradise (at least judging by some comments) but there's a chance you'll see E.T. there. Or those weird little guys from Area 51 who can finally solve the mystery for you. Yes, according to RNS, the Vatican's official astronomer, Father Jose Gabriel Funes, director of the Vatican Observatory, was quoted in today's Osservatore Romano as saying that intelligent life may exist on other planets and has no need of redemption through Jesus Christ. The interview appeared under the headline: "The extraterrestrial is my brother." (I thought that was a movie.)

"Just as a multiplicity of creatures exists on the Earth, so there could be other creatures, even intelligent ones, created by God," the Argentine Jesuit said. "This does not conflict with our faith, because we cannot set limits on the creative liberty of God." Funes added that such creatures may never have fallen into sin, and so have no need of salvation through Christianity.
"It is not a given that they have need of redemption," he said. "They may have remained in full friendship with their Creator."
The
AP
also ran with the story.