(Yes, I'm a day behind, but please forgive.)
Today's question regards the debate over whether there was once a woman pope–a story that has had a longer life than even "The Da Vinci Code"…
Q: Was there really a Pope Joan?
Read more from the papal answer man, Chris Bellitto and his new book, 101 Questions on Popes and the Papacy.

A: No, there was not a Pope Joan, but why the legend of the popess has lasted is itself an interesting story.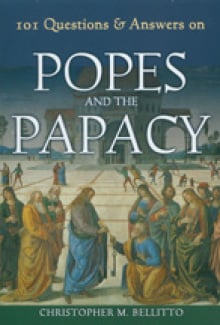 First, let's look at the legend, which has no basis in fact: none of the facts, names, dates, and places fit into the historical record. According to the stories, which began in the thirteenth century, at some point in the centuries before that an intelligent and literate woman had disguised herself as a man, began a career as a scribe, and over time achieved a number of successively higher church positions, including cardinal and then pope. After several years, this pope was discovered to be a woman when she delivered a child as she climbed into a horse's saddle or while riding in procession between St. Peter's and the Lateran. Following various versions of the story, a crowd that witnessed the event pulled her down to beat her, tied her to the horse's tail, or stoned her to death. So common was the story that learned Italian humanists like Petrarch and Boccaccio in the fourteenth century mentioned her; a sculpture of a Pope Joan was even placed alongside other popes in a Siena cathedral around that time.

Second, let's look at why the legend lasted. One group of people might use it to try to prove that a woman should not be a priest—let alone the pope—while others employ the legend to make the opposite point: a woman's smarts are what counts and if she can do the job, she should be able to. It may be that the legend was a way of representing the fact that some powerful Roman women had played a major role in selecting popes around the turn of the first millennium. Other legends grew out of it, especially the false notion that medieval popes had to sit on a chair with a hole in it—something like an elaborate chamberpot—so they could be inspected and proven to be male.
As you can imagine, the legend of Pope Joan became a popular rallying point for Protestant critics and Catholic defenders in the sixteenth and following centuries, although it was ironically a French Protestant who categorically refuted the legend in the seventeenth century. As with so much of what we have been discussing in this book, it is important to separate fact from fiction, to understand why the fictions persist, and to learn from informed history and not rumor or hearsay.
–From "101 Questions on Popes and the Papacy" by Christopher M. Bellitto; published by the Paulist Press and reprinted with permission of the publisher.