With Harold Camping's new definitely/maybe apocalypse rescheduled for this Friday, perhaps the Occupy Wall Street crowd's contagious pessimism has just been preparing humanity for the end of days? Any gold enthusiasts reported deathly ill from a mysterious plague yet?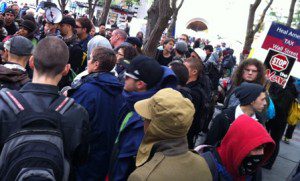 Either way, there's a growing religious component (boosted by the timing of this year's Jewish high holidays) to this anti-capitalism movement, which began in New York a month ago today and have since spread west to Seattle and east to Rome.
Some faith-related links:
What do you think? Share your thoughts in the Comments section below.