Deadline and space limitations — even cyberspace has limits! — left some interesting notes on my cutting-room floor this week, so here's my version of DVD extras for two stories that ran yesterday:
1. Corporate Culture Wars (Religion News Service)
A feature story prompted after  TOMS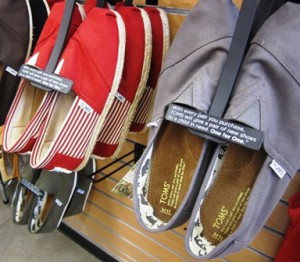 , a shoe company that donates a pair to a needy child for each one purchased, came under fire after CEO Blake Mycoskie participated in a Focus on the Family event. Several points didn't make the cut:
Beyond shoes, TOMS sells shirts, hats, and has recently added a sunglasses department, aimed at helping fund eyewear and medical treatment for vision impairments in the developing world. But critics of the for-profit company — which folded its nonprofit arm a few years ago — argue that buying pricy TOMS products, rather than donating directly to established nonprofit agencies, is an inefficient way to help the poor. Why not just buy a cheaper pair of shoes and then send the rest of the money to a well-established aid organization? Then again, would most people do that, or is this business model just easier?
At what point does it become hypocritical for a civil rights group to protest a company over a business leader's personal religious beliefs/actions? Richard J. McGowan, a Butler University instructor, pointed out in an email: "The comments on the internet are full of enmity toward (Mycoskie) and TOMS while simultaneously being full of condemnation of hateful comments. I do not see the bonds of community being furthered by the reactive responses."
2. Dalai Lama vs. Rick Perry: Separating Church & State… or Not (Trans/Missions)
In my inaugural blog post for USC's Trans/Missions Scoop blog, I observed that the Dalai Lama's recent remarks endorsing church-state separation begged for some context — since when was the supreme spiritual and political head of the Tibetan government in exile against his own dual authority?! — in addition to coming at a rather low point in America's own practicing of what Thomas Jefferson had preached.
Here's some extra insight into the Dalai Lama's position, courtesy of  Charles McDaniel, an assistant professor of church-state studies at Baylor University. Prof. McDaniel writes that the monk began to take the stance of separation between religion and politics in August 2008, when he said that consolidation of spiritual and secular power under one leader in Tibet is out of date:
"He has since stated that he recognizes his hypocrisy in this system, given his desire to free Buddhism from Chinese influence and promote international religious freedom — even as he retained control over the Tibetan government in exile," McDaniel said.

The Dalai Lama caused a furor in January 2008, when he advising against prayer to the deity Dorje Shugden and required monks in Tibetan and Indian monasteries not to do so. That sparked protests that he was exercising undue power, and "he effectively resigned any temporal control in Tibet," McDaniel said.
What do you think? Share your thoughts in the Comments section below.