I'm back from the annual Religion Newswriters Association conference, where journalists, academics and PR folks gather every year to talk shop. (Check out the live Twitter feed I helped produce: #RNA2010.) This year's gathering was in Denver and included sessions on Bible translations, evangelical leadership and investigative journalism; next year's will be in Durham, NC with sessions on Islam and diversity.
One of the highlights for me, as one of the next-generation religion reporters at the conference, was seeing how a veteran like Laurie Goodstein of The New York Times — named RNA Religion Reporter of the Year for her 2009 work — handled herself in two tense exchanges: asking Archbishop Charles J. Chaput why he refuses to talk to the NYT (see my Huffington Post piece and GetReligion's analysis), and addressing a Scientology spokesperson's complaints about reporting on allegations made by ex-Scientologists.
As for my belated Fun Friday: Rainn Wilson, who plays Dwight Schrute on NBC's "The Office," spoke via Skype about his Baha'i faith and SoulPancake website and upcoming book on spirituality and creativity.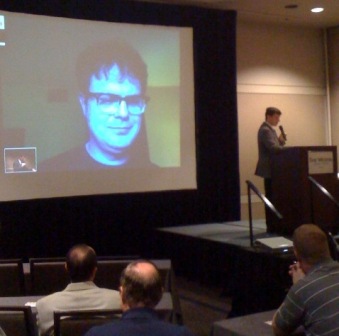 (Ed Helms, who plays "Andy" on "The Office," has told him seem like mutually exclusive goals.) Some interesting notes from that session:
Wilson was raised Baha'i by "bohemian" parents, drifted away, then came back to it as an adult. He hosted a weekly Belief Night (prayers, poetry readings) at his home for years after the 9/11 attacks, but now just hosts a Soul Saturday about once a month.
It's wrong to see Baha'i faith as just a combination of other religions (though adherents do read from other holy books and revere Jesus Christ and Abrahamic faith prophets), or some kind of offshoot of Islam: Bahai's follow Bahá'u'lláh's teachings.
He has declined offers to be more of a Baha'i spokesman, because he feels unqualified (and also thinks it's "sad" that a "big dorky guy" has ended up the faith's celebrity hero by default), but feels comfortable discussing his own experiences.
He turns down some "morally repugnant" roles due to his religious beliefs, but is OK with "morally questionable" stuff, like the role he played on HBO's "Entourage" a few years ago.
BONUS BELATED FUN FRIDAY: Check out Stephen Colbert's congressional testimony last week — mostly in character — about the plight of migrant workers who harvest America's food and the need for immigration reform. Near the end, Colbert, a Catholic, broke character in response to a question about why he is doing this:
"You know, "whatsoever you did for the least of my brothers," and these seem like the least of my brothers, right now. A lot of people are "least brothers" right now, with the economy so hard, and I don't want to take anyone's hardship away from them or diminish it or anything like that. But migrant workers suffer, and have no rights."
Check back for updates and share your thoughts in the Comments section below.
*Click here to subscribe to Belief Beat and click here to follow Belief Beat on Twitter.