If you're interested in learning more about the role that conservative religious leaders — including Pastor Lou Engle and other American evangelical Christians — have played in Uganda's efforts to pass a harsh anti-gay law, check out tonight's "Missionaries of Hate" episode of Vanguard, a documentary series on Current TV. (You may recognize it as Al Gore's project and the employer of the two journalists detained by North Korea last year.)
Homosexuality is already illegal in Uganda and most of Africa — just law week, a gay couple in Malawi was convicted of trying to marry, and sentenced to 14 years in jail.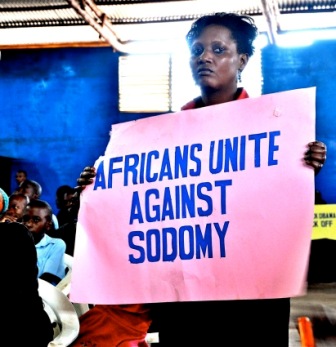 Uganda's proposed law would increase punishments — making the death penalty an option — and cover a wider range of offenses, such as not reporting that someone is gay. (Meanwhile, in America, a Gallup poll has just reported that a majority of Americans — 52 percent — no longer morally oppose same-sex relations.)
I went to journalism school with Vanguard correspondent Mariana van Zeller and producer Darren Foster, so here's a bit of background info about "Missionaries of Hate" from Darren:
What piqued our interest initially was the question of whether some American Evangelicals had an influence on this anti-gay bill. What were American evangelicals doing in Uganda giving a seminar about how Africans can protect themselves from homosexuality? Of all the great work Christian groups are doing in Africa, this just seemed so out of left field.

We definitely explore the American influence in the piece, but by the time we arrived in Uganda the fallout from the seminar was well underway and I think what we really wanted to accomplish was to take viewers inside this story and capture the mood of the country. While we were on the ground, the campaign to push through the legislation was really heating up and immediately we began following the bill's biggest cheerleader, Pastor Martin Ssempa. He's a very charismatic guy — a real performer — and has a strong following among young people. At the same time, we really wanted to show what it was like to be gay in Uganda, particularly in this very charged, anti-gay climate. We met and interviewed most of key players, including the bill's author David Bahati and Scott Lively, one of the American Evangelicals who headlined the anti-gay conference. Unlike many American Evangelicals who have relationships with Uganda and denounce the legislation, Lively told us he thinks a choice between what's the lesser of two evils?

"I would not have written the bill this way," he said. "But what it comes down to is a question of lesser of two evils. What is the lesser of two evils here? To allow the American and European gay activists to continue to do to that country what they've done here? Or to have a law that may be overly harsh in some regards? I think the lesser of two evils is for the bill to go through."
"Missionaries of Hate" airs tonight at 10 p.m. ET/7 p.m. PT. Check Current TV's site for channel information. (It will also be available online after the premiere.)
*Click here to subscribe to Belief Beat and click here to follow Belief Beat on Twitter.