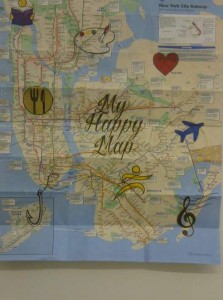 Photo credit: Pervis Taylor, III
As a coach one of the most exciting parts of working with my clients is when I have them create their happiness map.  Essentially its a map of things that bring them to the "warm place" when things are chaotic and out of sync.  These are usually activities or things that bring peace of mind.
How to create your map:
1. This is a wonderful exercise in creativity. You have license to do whatever you wish.  However it must have a clear thought out flow to it. Remember chaos doesn't provide clarity. For example,
2. It has to have reasonably attainable things that can easily be done. For example, going to your favorite restaurant or going to the park and reading a book or going to the gym are some things to include.
3. You must place it in a place where it can be viewed at all  times such as on your bedroom wall. This is something that has to be added to your life. Too often we create vision boards and goal maps and then when put them away.  if you're serious about your happiness you'll make this apart of life.
Lastly, it's important to know that happiness is a choice and not necessarily happenstance.  These maps will help you see how simple happiness can be and how much of a role you play in it.
Remember we have the ability to not only change our world, but the world as a whole….BE GREAT!!
Until Next Time,
Pervis
Pervis Taylor, III is an Author, Life Coach, Speaker and Contributor. His books Pervis Principles Volume 1 and 2 are available exclusively on his website: www.pervistaylor.com/author. He is the creator of the inspiration app, I-Inspire available for IPhones, Ipad and Ipod Touch via: http://pervistaylor.com/i-inspire/. He resides in New York City. Follow him on twitter @pervistaylor or facebook www.facebook.com/pervistaylor3.