Living in the Now means living for today! It means being present in what is happening in your life right now. When you live in the past, you are living it what was. Living for the future means you miss out on all the wonderful things that are happening right how in your life. Really the only the time you have is now and the angels like to say that the rest of it is what is the illusion.
I have always loved the principles of Reiki. They are fantastic principles to help guide you.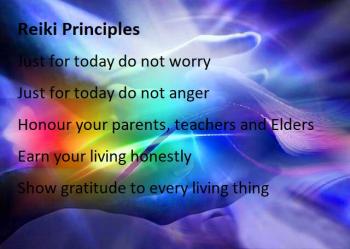 Like The Four Agreements, Living by the reiki principles helps you live in your now. There is a wonderful quote by ― Gerald Jampolsky "How simple it is to see that all the worry in the world cannot control the future. How simple it is to see that we can only be happy now. And that there will never be a time when it is not now."
Your Angel Guidance is to embrace the process of transformation and Living in the Now.
We always have a choice what we hold and own as our own. The best way to transform your life is to start living in the now. Not in the past or the future, in the Now!
www.playingwiththeuniverse.com
A great way to you through the transformations of this great shift is reading a page from Angel Guidance every day. You can get Sharon's wonderful book at Angel Guidance, Messages of Love and Healing or get a kindle and start working with your angels today !