Become more compassionate toward yourself. We are often hardest on ourselves. Becoming more compassionate toward ourselves is an important step in our growth. It is a big step in our journey of self discovery and awareness.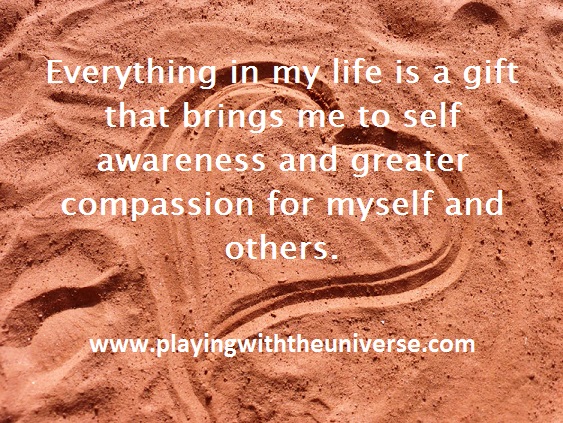 If we were perfect already, we probably would not be here on Earth for very long. I believe we come here to accomplish or mastery life lessons, and when we feel we are done, we go home. Try never to put yourself down. We are creating our lives as we go along, each and every one of us. Be more compassionate toward yourself and allow yourself to experience whatever it is that you are going through.
I am learning each day to live my life from a more compassionate perspective. I strive to see my life as a fascinating adventure. If I see problems and challenges on my path, I know the Universe is just trying to get my attention to show me a better way. When I ask for a sign from my guides and angels, I pay attention to the small signals and try to learn from them. It has been my experience that if I ignore this signs, things become more complicated and magnify. I don't want this so I sent my intention to pay attention. When something negative happens, remember that you are doing your best and make a commitment to be open to see things from a different perspective. Let go of the bad feelings and be open to the message it is showing you.
Your Angel Guidance is:
Make a commitment  to yourself to be more compassionate toward yourself and your life.
Say this affirmation every day:"Everything in my life is a gift that brings me to self awareness and greater compassion for myself and others."
Tons of love, Sharon and the angels xoxox
www.playingwiththeuniverse.com
Check out Sharon's daily Angel Guidance Messages
Read more at http://www.beliefnet.com/columnists/angelguidance