When my mom goes out of town I stay at her house as one of her dogs is a rescue that would not do well in the city. She lives on acreage and it is always a nice respite from the energy. I like to call it 'the bush' as it is out of cellular and internet range, and in the trees, hence the bush lol, although it is only 20 minutes from town. Being out of range is sometimes a good thing as we can't go to our ever dependent devices whenever we like. Kind of a nice retreat for family gatherings.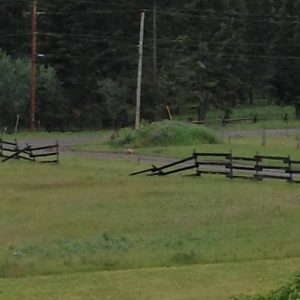 This particular morning when we got back from our morning walk I was having a coffee on the deck when I was visited by a deer and her brand new baby. It was so tiny I was amazed it was out of the back as usually they don't bring them out when they are babies, but this little one was sticking with her mom regardless what mom wanted. It was such a gift from the Creator, I thought I would share.
Although the picture isn't the best as they were going down to the creek in a bit of hurry but you can see the little one following close behind Mom. Over the weekend I was blessed with a few more opportunities to watch them as she took the baby out a few times each day and each time it was a new treat. She did keep a healthy distance from the dogs even though they were contained, mother deer was not going to take the chance.
I decided to look up what deer means in my Animal Medicine Cards by David Carson & Jamie Sams http://www.medicinecards.com/
"Deer teaches us to use the power of gentleness to touch the hearts and minds of wounded beings who are trying to keep us from Sacred Mountain. Like the dappling Fawn's coat, both the light and dark may be loved to create gentleness and safety for those who are seeking peace. If Deer has gently nudged its way into your cards today, you are being asked to find the gentleness of spirit that heals all wounds. Stop pushing so hard to get others to change, and love them as they are. Apply gentleness to your present situation and become like the summer breeze: warm and caring. This is your tool for solving the present dilemma you are facing. If you use it, you will connect with Sacred Mountain, your centering place of serenity, and Great Spirit will guide you."
I was trying to teach the dogs not to chase them, to sit quiet and let them come closer. I did have some success, using gentleness.
What does deer have to share with you this day?
Tons of love, Sharon and the angels xoxox
www.playingwiththeuniverse.com
Read more at http://www.beliefnet.com/columnists/angelguidance