Today's message from the angels is about finding your personal doorway to your personal healing and happiness. When you are in this place, you are better able to help others or be in service to your life's purpose.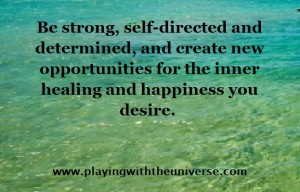 Work on your path to inner healing through inviting Archangel Raphael to overlight your journey. It can be that you are working to overcome some form addiction that directs your life or working on making external changes such as finding a new place to live or work, this signifies a time of great potential and that your life is opening up and new opportunities are about to appear. The changes you have been working on are ready to blossom with wonderful results, so make sure you see your personal intentions through with continued commitment, action, and with optimistic expectations.
If you have been feeling stuck where your personal intentions are concerned this a cue letting you know it is time to make a plan, form a strategy and prepare to do some work to help yourself achieve right now. Remember that intentions need to be clear and unconflicted. This means, stop cutting off your intentions by a pessimistic attitude and procrastination. A new beginning is available to you if you choose to step up with your own focus and patient determination.
Your angle guidance is to remember that you are deserving. To release any attachments to certain outcomes and hold positive thoughts that there is always something better coming than what has been. Be strong, self directed and determined, and create new opportunities for the inner healing and happiness you desire.
tons of love, Sharon and the angels
www.playingwiththeuniverse.com