There is great potential for new opportunities. Your angel guidance is to begin to see life in a different way. To look at the different possibilities as choices with great potential. Know that you are worthy and trust that it is so.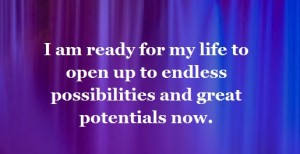 There are many paths and doorways for you to walk through on your journey of life. When you consciously set your intentions for what it is you wish to create for yourself, that is when magic can happen. Don't be disheartened by the doors that are closing, or the ones that did not open as that means you are ready for something more that perhaps you haven't seen or conceived of just yet, or that you are not patient enough for the divine timing to unfold in all that is.
The time is ripe for you to take advantage of the creative energy in this cycle. You have the power to transform things for yourself. Believe in yourself. Believe that you are worthy. You have unlimited potential and it is time to wake up to this knowledge and make it a part of your knowing. Do not let thoughts of the past or what might have been linger for long as it is time to create something new. You have the resources that you need and the unlimited force of the Universe at your fingertips, believe that this is so.
Affirm: "I am ready for my life to open up to endless possibilities and great potentials now."
We waste lot of time and energy on 'what ifs' or 'what might have been' and the angels say that is usually our biggest hurdle and once we transform these thoughts and feelings, we free up a lot of energy to begin attracting what we do want to us. Also that we need to believe that we are truly worthy and can do it.
Your angel guidance for this week is to look for the new doors that are opening because of the work that you have been doing and welcome these shifts in your world as the gifts of your work.
Love and Blessings, Sharon