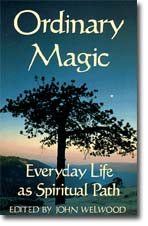 There are few essay collections which I find eternally useful…so useful that they never seem to leave my bedside table for a more (lonely) and permanent space on my living room bookshelf. But John Welwood edited one such collection called Ordinary Magic. And indeed, it is full of magic.
The essays are the most poignant I have found in a single collection. They touch all aspects of spiritual growth and experience–using a wide variety of voices–and each one manages to jolt me out of my conventional mind into seeing the magic in my own soul and the beings all around me. But more importantly, it focuses on how we can transform ordinary activities into spiritual practice. Yes, we can go to the bank and make dinner and answer emails and be training our mind to respond to all aspects of life with compassion and kindness.
If this week is supposed to be focused on love, then we ought to think deeply about learning how to love all others without conditions. And reading this collection is a very good start. Click on this link to purchase this book.