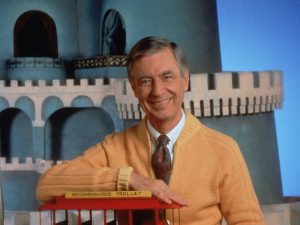 Mr. Rogers' Neighborhood was not on television where I grew up. My children missed the show's heyday also. So it was a surprise when late in life, long after Mr. Roger's had gone to the great neighborhood in the sky, I became a fan. Not of his television shows, puppets or music, but of him. I became a fangirl when my friend, Ian told me stories of how Mr. Rogers famously accepted everyone exactly as they were. He made everyone feel liked with a non-judgmental attitude. Whether he liked them or not we will never know. Even when he disagreed with someone's behavior he remained kind and accepting. He stated what he would like changed but did not criticize the person. How does someone become that person?
I believe appreciation is a holy thing, that when we look for what's best in the person we happen to be with at the moment, we are doing what God does; so in appreciating our neighbor, we're participating in something truly sacred. Fred Rogers
Fred Rogers, an ordained Presbyterian minister as well as a TV personality, died in 2003. His essential message was unconditional love. "Won't you be my neighbor?" was how he asked children and adults alike to connect. It is also the title of the 2018 documentary by filmmaker Morgan Neville. (Available on iTunes and Pay for View.) He cultivated love and supported the universal need to be loved with the frequent reminder, "you are an important person just the way you are."
"I want to be like that," I declared to Ian, who laughed. He either did not want to be like Mr. Rogers or thought it was an unrealistic goal. I disagree. Psychological and happiness research tells us that in addition to food and shelter, humans need connection and purpose to thrive. Mr. Rogers striped the academics down to simply, 'everyone wants to be loved'. It is the begging, cutting off and lashing out in the absence of love that makes people hard to like or appreciate. He somehow knew how to ignore all the fuss and see the true person underneath.
There is no reason why we all can't channel Mr. Rogers. I will practice by reminding myself that angry, fearful and selfish behavior is a call for love. Especially when I am the one doing them. I will accept people as they are, though I may not like or condone their behavior. What I 'like' is not as important as the person behind the actions. 'Won't you be my neighbor?' is the enduring message.
Thanks, Mr. Rogers. It took several decades but I finally understand.